Staff training
In rail, just like many other sectors, AR is making staff training more dynamic, engaging and efficient. The use of this technology for training purposes has increased over the past few years, as it helps simplify and speed up the process. Most of all, AR shows employees realistic scenarios that teach them how to act on-site.
On a practical level, the technology is now being used by engineers at HS2, the UK's upcoming high-speed rail line currently under construction. During the summer, the company launched an immersive AR technology that created a replica of its new London hub, the Old Oak Common station.
Ahead of its opening, staff are using this solution to train on customer experience, safety and maintenance of the station, which is set to handle 275,000 commuters per day. Through the technology, trainees can also provide feedback on the development of the station, its design and construction.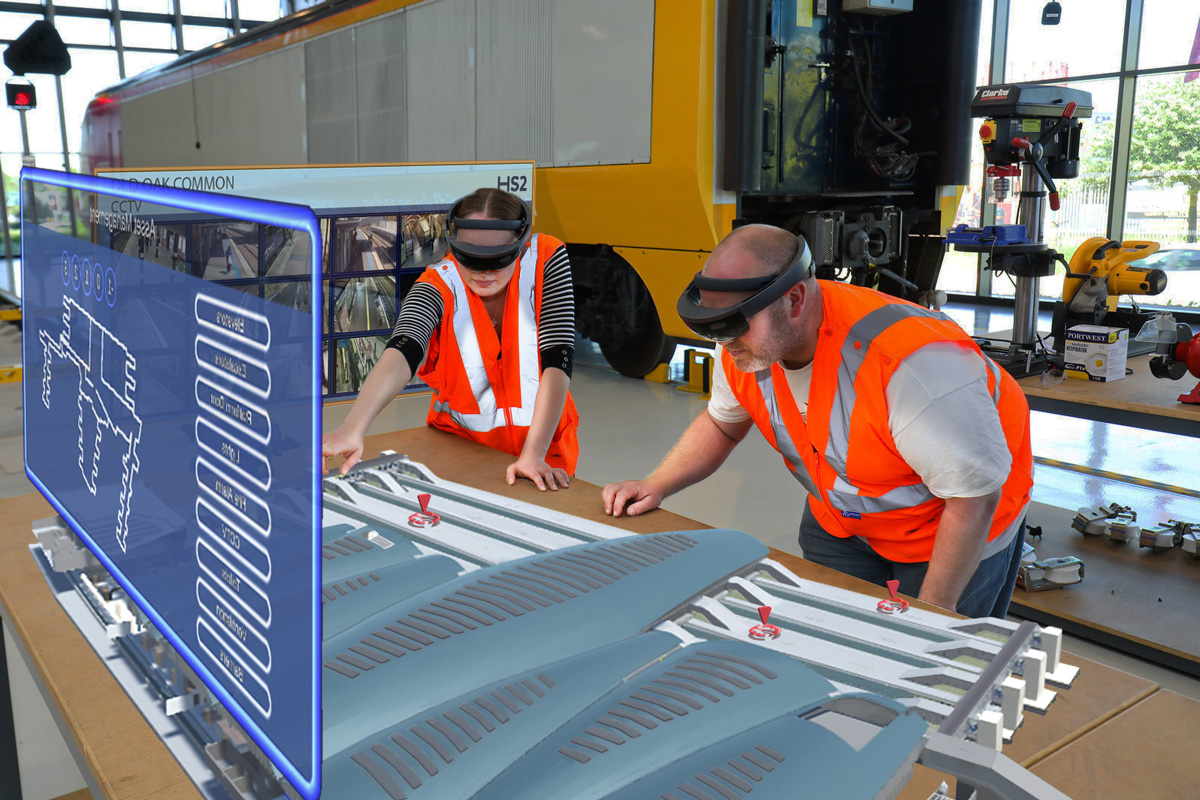 HS2 staff using immersive AR technology. Image: HS2 Limited
All things maintenance
Rail maintenance is often an unsafe, impractical and limited task, as it depends on factors such as weather conditions and the state of infrastructure. Adding to this, the industry has long been searching for ways to better predict problems before they occur, saving times and costs, as well as boosting passenger appreciation.
AR allows tracks to be checked remotely and, if combined with technologies such as advanced weather forecasting and artificial intelligence, it can assist with predictive maintenance.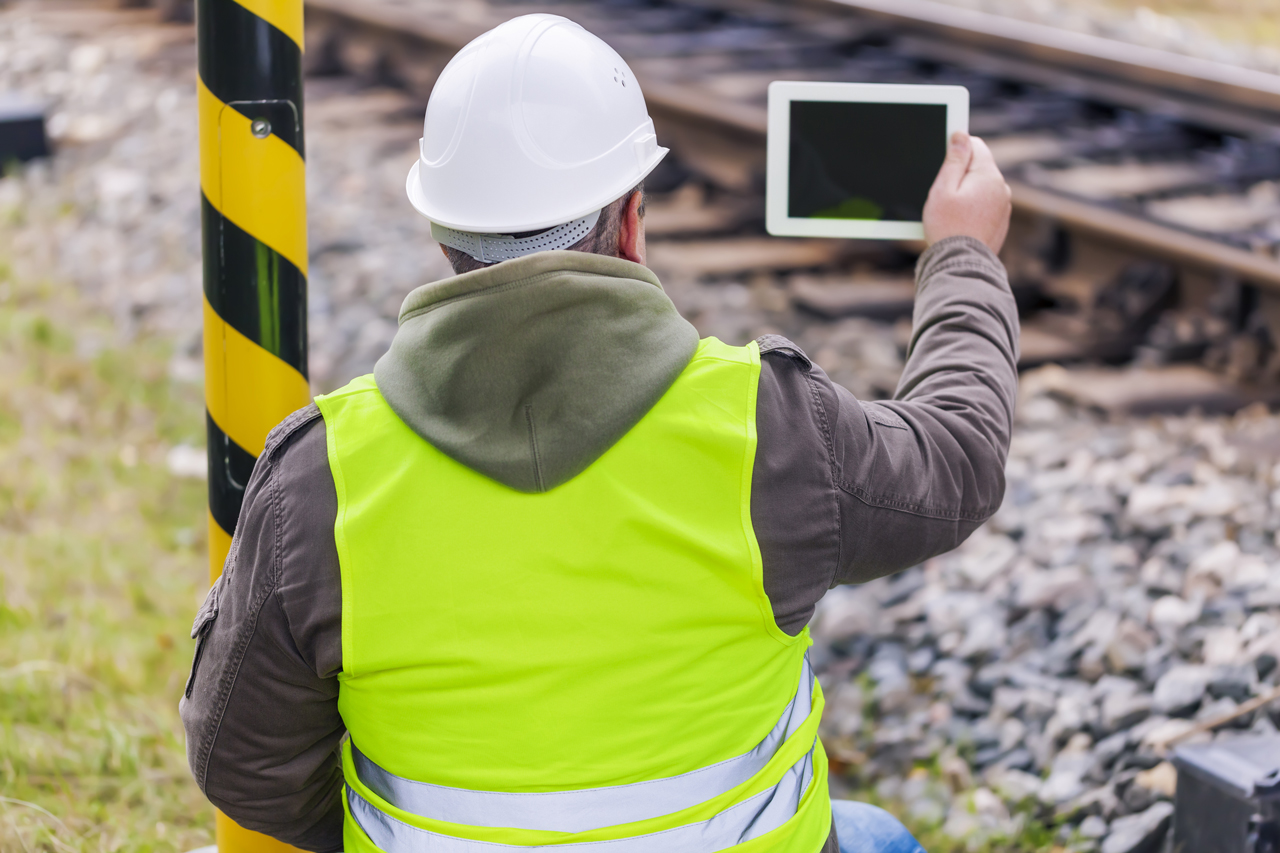 In 2016, for example, employees working on the Greater Boston commuter rail system wore smart glasses fitted with AR technology that visually connected them to off-site staff. This allowed for continuous communication and real-time vision of works between the two locations, resulting in cost savings and improved maintenance.
Meanwhile, in the UK, engineering start-up Enable My Team is preparing to launch a technology designed to predict train track and signalling equipment failures in advance. Set to launch in 2020, it uses AR through a smartphone or a head-mounted display to trace faults in real-time, alerting engineers that action is required.
Tackling overcrowding
Rail passenger rates are booming all around the world, with traffic peaking near big metropolitan cities. This is giving operators a real headache, as initiatives such as introducing more trains and expanding networks take time and money, so can only tackle overcrowding in the long term. Technology, on the other hand, can have nearly immediate effects.
In October, congestion-plagued Shanghai tested a pair of AR smart glasses to ease passenger flows ahead of the China International Import Expo. Fitted with cameras that live stream commuter traffic directly to a station's command platform, these can help officers quickly identify bottlenecks. The product is also helping with security checks, as the glasses offer facial recognition and have built-in intelligence voice recognition systems.
On trial in the weeks leading up to the event, the glasses have now been adopted across several subway systems from Shanghai to Luoyang and Gansu.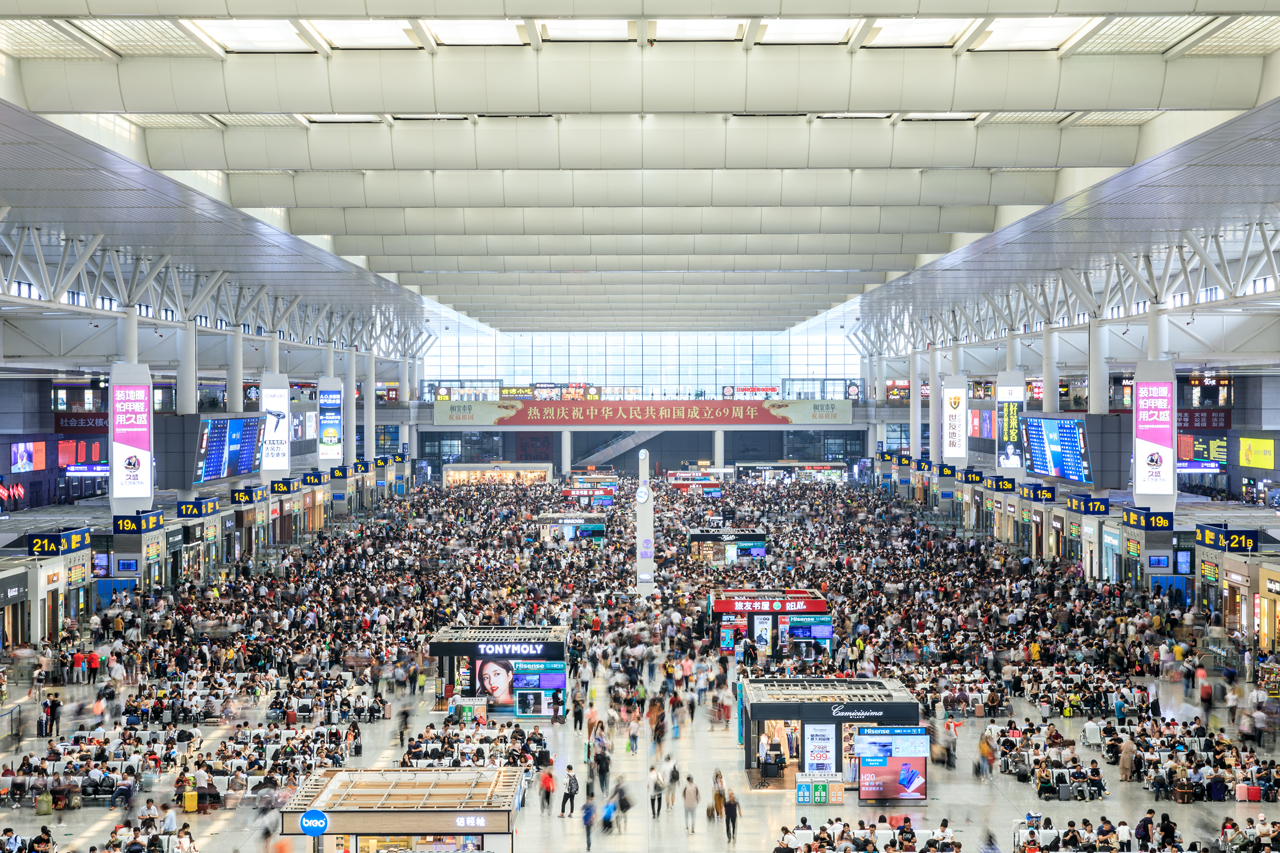 Shanghai Hongqiao Railway Station. Image: zhao jiankang | Shutterstock.com.