- ECONOMIC IMPACT -
Latest update: 15 September
The global economy is projected to grow at record speed in 2021, but the outlook is uncertain and will depend on the effectiveness and distribution of the vaccines and on continued fiscal support.
Countries such as the US and UK that show early success in vaccine distribution have seen strong upward revision in GDP growth. Recovery will be uneven across countries, sectors and income levels.
World economic growth is projected at 5.7% in 2021 and at 4.5% in 2022, according to HIS Markit.
According to the OECD, the unemployment rate in OECD nations stood at 6.2% in July 2021.
GLOBAL ECONOMY TO REVIVE IN 2021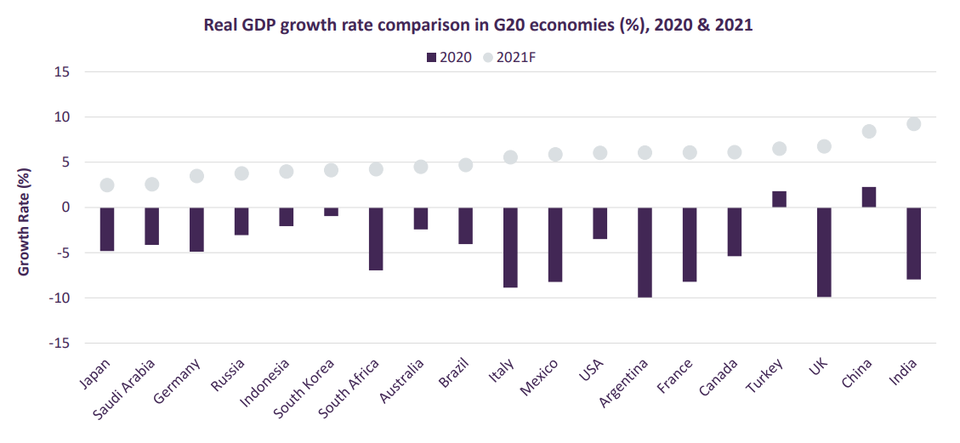 - SECTOR IMPACT: TRAVEL AND TOURISM -
Latest update: 3 September
There have been slight improvements for certain airlines worldwide over the past few months but this industry still faces a long-winded recovery.

Demand is still down for international travel due to government-imposed travel restrictions. The loss of business travelers continues to drive airline ticket prices down to offset losses.

Airline prices are not expected to recover until at least 2022, so the recovery will continue to be gradual.
Intermediaries have long supported the idea or have been working towards a form of 'super app'. This app would act as one, integrated platform that would enable a customer to freely book each aspect of their trip, travel and pay their way throughout their holiday.

In order to stimulate customer demand many intermediaries are incorporating more offerings to ensure a more seamless travel experience. International travel demand remains low meaning outlook is still not rosy.
Low tourist demand means many cars rental companies have been forced to sell their fleets in order to stay afloat during the Covid-19 pandemic.
Markets in which airport pickup is the largest channel, such as the US, have particularly suffered, but the effect has been felt all over the world.
But as demand picks up, with more people traveling and supply still down, major price hikes are likely to be in store for anyone who wants to rent a car.
Key Travel And Tourism developments