The NRLA will reduce journey times between north and south
New Rail Link through the Alps (NRLA)
The largest and most ambitious project in the history of Swiss Railways, the New Rail Link through the Alps (NRLA) kicked off in 2007.
Strategically launched to enhance connections between Switzerland and its neighbour countries, it consists of building three base tunnels through the Alps – namely the Gotthard, Lötschberg and Ceneri – to create a level-track route crossing the mountains.
With the first two already opened, the project will cost a total of CHF23bn and is scheduled to be completed by 2020 with the inauguration of the Ceneri base tunnel.
Once operational, the NRLA will reduce journey times between north and south by an hour for passenger trains, while also creating new rail freight opportunities.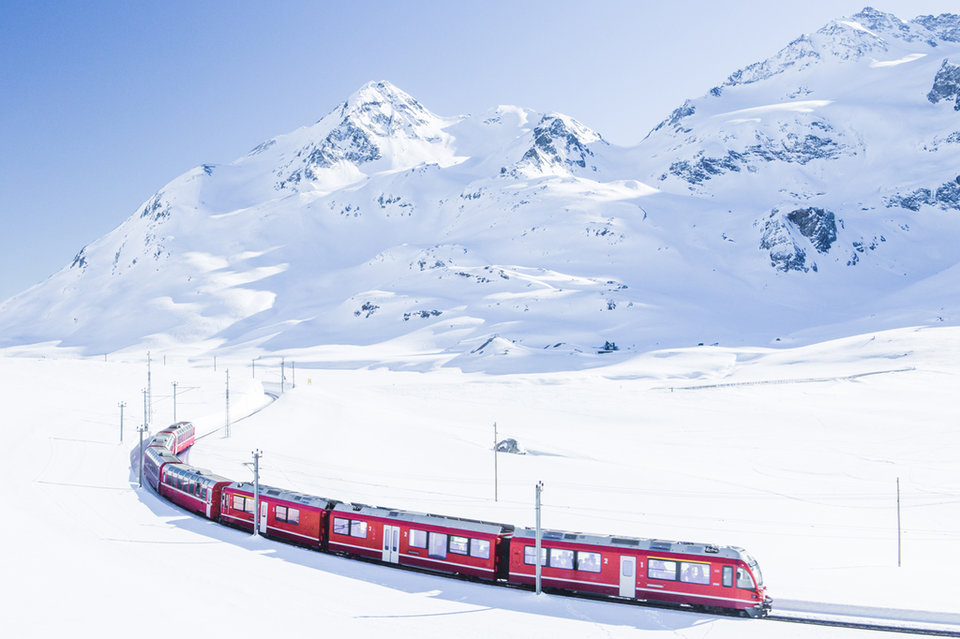 Image: The Bernina Express passing through the alps
High-speed connections
Around CHF1bn is being invested on delivering a number of high-speed rail links to improve access to the European high-speed rail network by 2020.
Under development since 2005, these projects aim to build high-speed routes to Germany and France as part of a wider plan to promote Switzerland's tourist attractions and trade relations, as well as improve its environmental credentials.

They will, in fact, trigger a further shift from road cargo transport to the railways.
According to the Office of Transport's report, these projects will also help cut travelling times towards key European hubs such as Paris, Lyon, Munich, Ulm and Stuttgart.
Trains from Basel now reach Paris half an hour faster, while journey times to Munich will be an hour shorter once completed in 2020.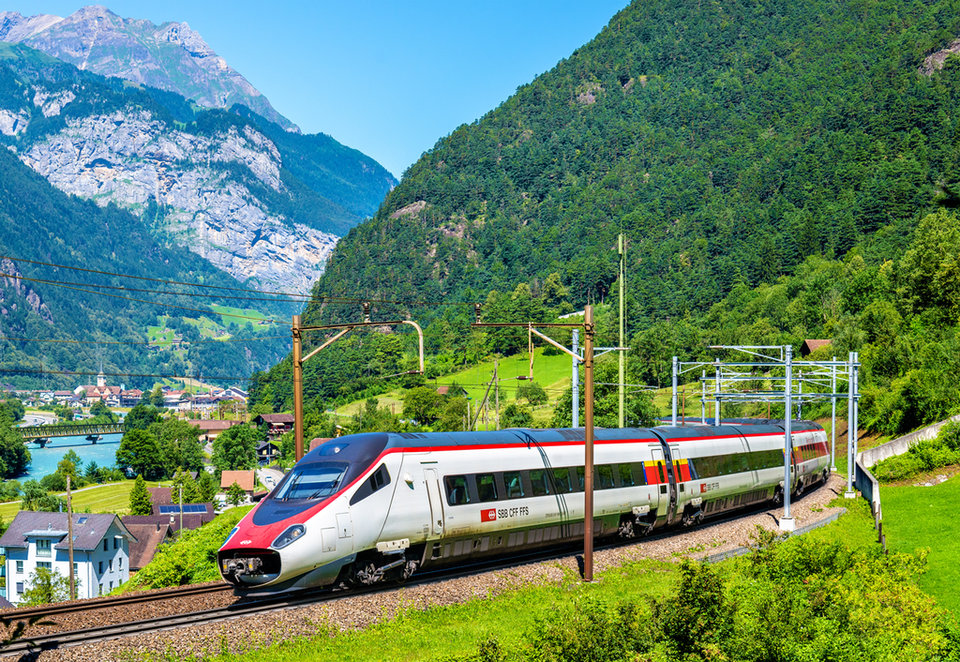 Image: An Alstom ETR 610 tilting high-speed train. Leonid Andronov | Shutterstock.com
These projects will also help cut travelling times towards key European hubs
Swiss Railways is planning a new set of noise abatement measurements
Noise reduction on the railways
Early proposals to cut down noise pollution were put forward almost 20 years ago as the Parliament set aside almost CHF9bn to support a series of measures meant to improve quality of life for those living near the railways.
The Swiss Government then launched a programme of modernisation of its rolling stock – both for passenger and freight trains – which was completed by 2016. The scope of the programme also included building some 276km of noise barriers, as well as installing over 70,000 sound-isolating windows.
A further CHF1.515bn has since been set aside by authorities to finance a follow-up programme that introduced a binding emissions threshold for cargo trains. In addition, a ban on noisy wagons with grey cast iron breaks will come into effect in 2020.
Finally, Swiss Railways is planning a new set of noise abatement measurements on the track, while also providing grants for the purchase and operations for quiet freight carriers and investing in R&D.
Future Development of the Railway Infrastructure: the ZEB programme
The ZEB programme was launched in 2009 as a continuation of its predecessor, the 'Bahn 2000' scheme. It's a nationwide package comprising a series of infrastructure measures paving the way for the introduction of 400m double-decker trains on the West-East Axis via Bern route.
With an investment of CHF5.4bn, the project will also allow for the deployment of double-decker trains along the Lausanne-Brig line in Valais.
Designed to drive growth across all Swiss regions, it includes plans to support the NRLA by improving access routes to the Gotthard and Ceneri Base Tunnels, therefore generating more frequent rail freight traffic.
Within this framework, Switzerland is also on track to build the new Eppenberg Tunnel, another major infrastructure project that will facilitate the creation of a four-line corridor.
Swiss Railways' report claims that as of 2018, about 80% of the projects within this scheme is either under development, operating or complete; they are scheduled to be completed by 2025.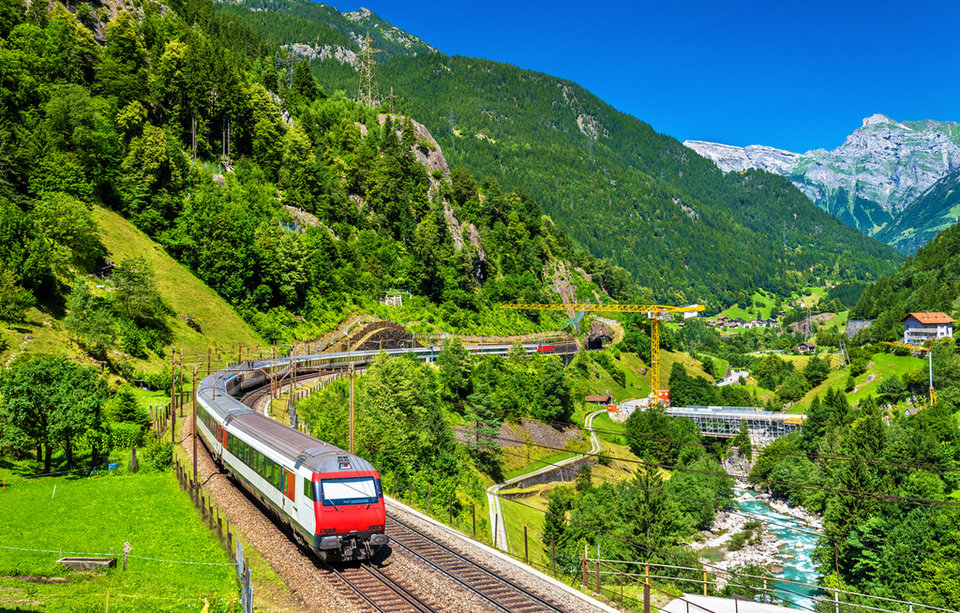 Image: Intercity train at the Gotthard railway.
The project will allow for the deployment of double-decker trains