For over 35 years, Zetron has been manufacturing mission critical communications solutions and has installed in excess of 25,000 Console positions in over 100 Countries.
ACOM Command & Control is a world class dispatch console system that has evolved over 20+ years to become the preferred dispatch solution for Transportation, Public Safety, Mining, Oil & Gas organisations and Utilities in many countries around the world.
Zetron has substantial experience providing dispatch systems for Rail Organisations including;
Metro Trains (VIC)
Yarra Trams (VIC)
V/Line (Regional Rail) (VIC)
Queensland Rail (QLD)
Aurizon (QLD)
Brookfield Rail (WA)
Tas Rail (TAS)
Public Transport Authority (WA)
Metropolitan Transportation Authority (New York)
Chicago Transit
Moscow Metro
CPTM Brazil

For the above systems, Zetron developed many custom interfaces, features and functions to meet the individual and unique voice and data integration requirements for each of these rail customers.
For over 35 years, Zetron has been manufacturing mission critical communications solutions and has installed in excess of 25,000 Console positions in over 100 Countries.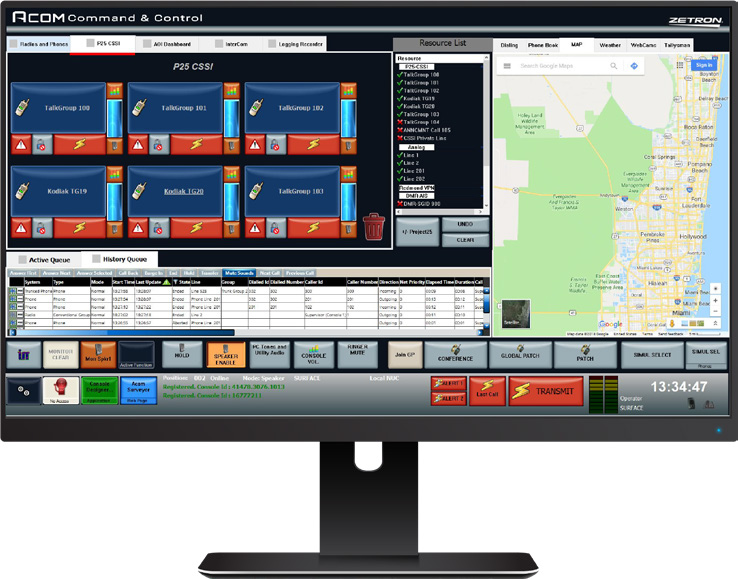 Zetron's Acom system is designed for Safety and Mission Critical Control Rooms where high availability and reliability is required. The system scales efficiently to over 200 Console positions and 2000 connected resources.
Acom software and hardware is designed and developed at our global engineering facility in Brisbane QLD and Zetron continues its substantial investment in ongoing development of the Acom system to keep it at the leading edge of console technology.
Zetron brings not only the most capable dispatch console system in terms of features, functions and reliability, but also with it the most capable team of expert personnel to deliver systems and support for the operational life of the systems. Our support facility in Brisbane provides 24 x 7 service with spare parts, engineering, training and technical support to our customers in Australia. The Zetron team has considerable expertise to assist with detailed design, configuration, optimisation and implementation of Aurizon's console system.
Zetron is a subsidiary of the JVC Kenwood Corporation with its global headquarters and manufacturing facilities located in Redmond Washington. In addition to global headquarters and offices located in the United Kingdom and Australia, Zetron has a global network of authorised resellers, distributors, and system integrators in over 60 countries.
Zetron continues to develop and deploy mission-critical integrated solutions with the future needs of the Rail control room market in mind," said Zetron Australasia Vice President & General Manager, Ranjan Bhagat "Through our active involvement with industry as well as with many of our global rail customers, we continue to provide highly scalable, flexible and reliable control room solutions utilising advanced technologies that make the operators job as efficient as possible
Zetron Experience with projects of similar scope
Following the introduction in Section 1 above, the following detail examples of projects.

Rail Customer examples:
Queensland Rail:
Recent project to upgrade QR existing Acom system. Design, supply and install 40+ Acom consoles distributed across 5 interconnected sites. Integration to TAIT DMR Tier III Radio infrastructure.
Yarra Trams:
Design, supply and install 27 Acom consoles with redundant Acom system distributed across 3 interconnected sites in Melbourne supporting telephony, legacy analogue and MotoTRBO radios.
V/Line:
Contracted to UGL to design, supply and install 23 Acom consoles with site and geographic redundant Acom systems for the Victorian Regional Rail Project supporting telephony, legacy (MDC600) radio systems and P25 radios.
Brookfield Rail:
Major upgrade of existing Acom system supporting 15 consoles positions distributed across 3 sites supporting rail radio facilities and telephony integration.
Public Transport Authority WA:
Major upgrade of existing Acom system supporting 26 consoles distributed across 3 sites supporting integrated telephony, legacy analogue radios and working with PTA to implement future LTE system.
Aurizon:
Zetron ACOM systems with 20+ operator consoles. Full redundancy. Planning underway for system upgrade and expansion and integration to digital radio systems.
TAS Rail:
Design, supply and install Console Dispatch system supporting VHF rail radio network with unique Selcall functionality
Metro Trains Melbourne:
Distributed Dispatch system across 7 sites including DR site. Custom Interfaces to numerous specialised and unique telephone systems, train radio systems, CCTV, Signalling Control. Upgrade work undertaken in 2006. Currently planning major upgrade with relocation of Train Control to a new NOC facility.

Other Customers
Inpex Icthys Gas Project:
Acom systems at three sites with 27 Console positions connected via Wireline interface to Rohill TETRA Radio system. Connection to maritime, Aviation and HF radio channels.
Chevron Gorgon Project:
Two site redundant Acom system connected to DAMM TETRA radio system and SIP PABX. Connections to Analogue radio channels (Marine & Airband) via RoiP. Provision for 18 Digital inputs for alarms and connection to 25 radio resources.
Gardermoen Airport (Oslo):
Acom System with TETRA, VHF & UHF radio connections and 60 PABX lines

Dubai Airports:
Two site high availability core with no single point of failure. 75 Operator positions.
Connection to PABX, Airbus TETRA, UHF & VHF Analogue radios, Digital I/O (Acromag), Recorded Voice announcement, PA System and Eventide call recorder / loggers.
Dubai Civil Defence:
Acom Novus system with Integration to Airbus TETRA and 29 Operator positions plus integration to 3 x E1 (QSIG) PABX connections.
Doha Ports, Qatar:
Geo-redundant Acom Novus with Integration to Airbus TETRA and 71 Operator positions.
In addition to wired TETRA the system connects to a PABX via three (3) E1 QSIG interface connections and a DPBX via an Ethernet connection supporting thirty (30) multaneous SIP telephony sessions.
We can train our technology to help them to detect and prevent their issues
Project Deployment:
The Acom systems and consoles are assembled, staged and tested at Zetron Brisbane.

A Factory Acceptance Test (FAT) witnessed by the customer and end user is completed at Zetron Brisbane prior to the equipment shipping to site.