Rail innovation:
is Australia falling behind?
Rail innovation: is Australia falling behind?
A report from the Australasian Railway Association is calling for rail innovation to be named a national priority to prevent the country from slipping behind its competitors. ARA CEO Caroline Wilkie speaks to Adele Berti about the reasons behind the sector's struggles and what can be done to get Australian rail back on its feet.
A
ustralia boasts some of the most cutting-edge and technologically advanced rail networks in the world. Since its development in the 19th century, the network has been a crucial driver of economic growth, having contributed A$29.8bn to the economy and supported 165,000 jobs in 2019.

Despite the reputation and international prestige it has established over time, a new report from the Australasian Railway Association (ARA) has found that the sector is not living up to its potential and failing to compete with international leaders such as Germany and Japan.

This, the study claims, is due to a deeply rooted fragmentation of the local market – a legacy of the network's early days – as well as insufficient funds and the presence of state-specific government procurement processes. The ARA claims that these have long been standing in the way of growth, and a reason why the domestic rail manufacturing industry recently saw annual revenues decline by 1.6%.

But the good news is that Australia is preparing for its next major programme of rail transformation through a A$155bn investment planned in the next 15 years. With the help from central government aided by industry-wide collaboration, it could lead to annual growth of 1.5% for the next five years.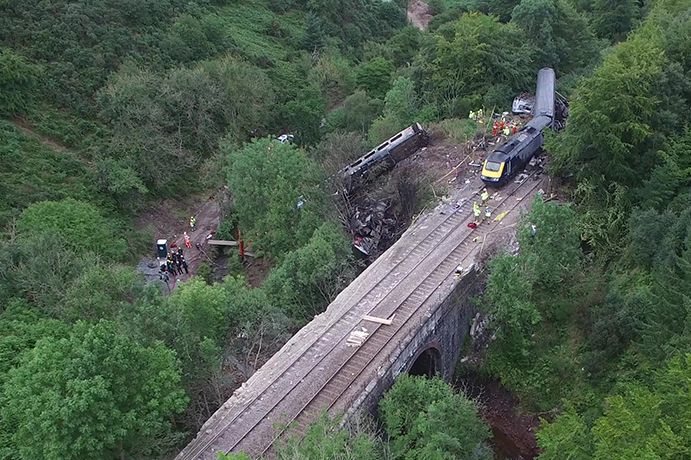 Aerial view of the derailment. Image: UK Government
A fragmented national market
The rail sector plays a pivotal role in Australia's economy. Between 2016 and 2019, the industry's contribution to the local economy has grown by over A$3bn – from A$26.1bn to A$29.8bn – according to an ARA report titled Value of Rail 2020.
With the support of theA$155bn programme, Australian rail operators are already working on several key projects for the country. "There are some significant rail projects underway at the moment, including Sydney Metro, Cross River Rail and Inland Rail," explains ARA chief executive Caroline Wilkie. "These projects are injecting new capacity into our passenger and freight network. It will be essential to make the best use of technology as projects like this are delivered to ensure they deliver maximum value over the whole project lifecycle."
It will be essential to make the best use of technology
Yet standing in the way of their and many other projects' success is the fragmented nature of the Australian rail market, which the ARA has identified as a crucial impediment to the sector's expansion.
"Australia's rail procurement and funding are generally led by state and territory governments, which means there are different approaches depending on where you are in Australia," she says. "This is really challenging for the rail industry because it makes it harder to build up long term pipelines of work, and harder to achieve economies of scale for manufacturing and production."
This issue has negative ripple effects on segments of the rail sector, including the presence of multiple rail operators and owners, rules and type approvals, as well as rail planning, investment and procurement.
What is holding Australian railways back internationally?
With this increasingly fragmented market causing inefficiencies throughout the network, some parts of Australia's rail industry are failing to deliver results. "There is a large and growing global rail innovation market, but Australia is simply missing out," says Wilkie.
This has been exacerbated by the closure of the Rail Manufacturing Cooperative Research Centre (RM CRC) in June 2020, which has left a research and leadership void within the industry and taken precious funding away from the sector. As a result, domestic R&D funding is often consistently lower than some of Australia's competitors, meaning it is struggling to attract private investment.
"Governments often call for replacements when they tender for new products," Wilkie says. "This means if the private sector has a more efficient solution, it is difficult to put that forward. We need procurement processes that ask for the industry to propose a solution and provides more space for innovation. Without a clear and long-term government commitment, the private sector has taken its R&D funding elsewhere."
Rail patent applications in Australia make up just 1% of the global total
Patent submissions are also considerably lower compared to the likes of the US, New Zealand and the UK. "Rail patent applications in Australia make up just 1% of the global total because our market and our approach to innovation are not where they need to be," she comments. "We need a clear commitment to innovation and technology adoption to make sure it is an integral part of the industry."
While finding that Australia's spending on rail is greater than its competitors, the report also mentions a contraction of the manufacturing sector by an average rate of 1.6% a year. This starkly compares with the UK, whose annual growth has been by almost 5% every year. It also highlights the need for Australia to financially support its manufacturing capability.
"Australia's manufacturing capability is outstanding, but we are facing a decline in component manufacturing as a result of cheaper imports," she says. "The fragmented Australian rail market is also a contributing factor, as it makes it harder for businesses to build up steady, long-term demand for their work."
Finally, the ARA found that while Australia has long been a pioneer in the field of rail innovation, it has often been slower than others at adopting major rail technologies in its passenger and freight networks. A prime example is driverless trains, which the Rio Tinto railway piloted in the early 2000s, but failed to introduce until 2019.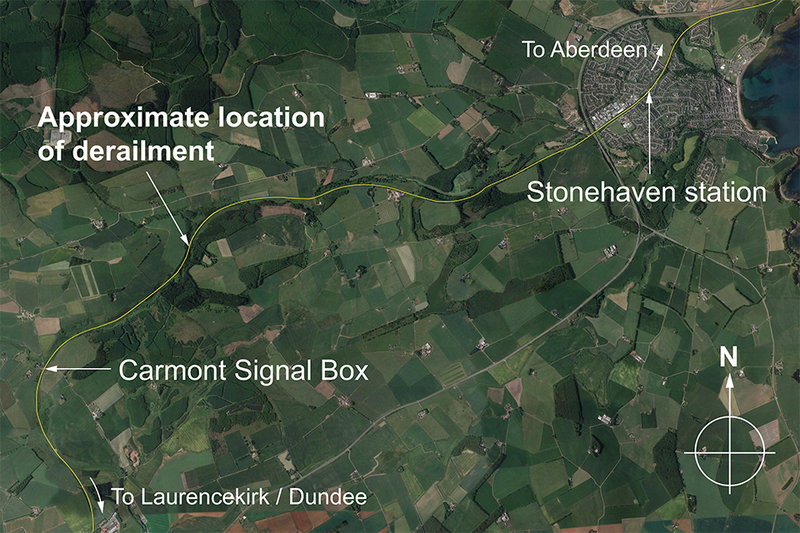 A Google Earth image showing key locations to the crash. Image: UK Government
What needs to change?
In its report, the ARA calls for the Australian Government to make rail innovation a national priority to ensure that the sector keeps pace with its international competitors. "A national approach would ensure more consistent standards, procurement processes that make it easier for suppliers to work from state to state and a bigger market for everyone," Wilkie explains. "That is essential in order to attract new investment in innovation and technology to support the industry's growth."

Beyond giving rail innovation priority it deserves, the government should make long-term funding commitments to supporting rail growth in a "single rail market that gives rail suppliers the scale they need", she adds. "Strong collaboration between the public and private sectors is a hallmark of successful models around the world."
Strong collaboration between the public and private sectors is a hallmark of successful models around the world
As it looks beyond its borders for inspiration, Australia should also replicate that "sense of partnership" between public and private sector that countries like Germany and Japan have successfully encouraged by making rail a national focus. "That will require state and territory governments to unite to create a truly national focus on rail in Australia," Wilkie says.

This will be all the more essential while recovering from the coronavirus pandemic. "Passenger numbers on the network have been severely impacted but are returning slowly as restrictions have eased," she adds.

"Innovation absolutely has a role to play after Covid-19. This year has shown us how quickly we can do things differently when we need to. We have seen simple examples of innovation arise during the pandemic, such as real-time information sharing of train capacity on passenger services."