How the railways can help domestic abuse survivors
To mark the International Day for the Elimination of Violence against Women in late 2020, Ilaria Grasso Macola spoke to Rail Delivery Group COO Jacqueline Starr about the extension of the Rail to Refuge scheme, which offers a lifeline to domestic abuse survivors.
Despite campaigns and initiatives – including the UN International Day for the Elimination of Violence against Women – gendered violence in all its forms remains pervasive in our societies and has been exacerbated during the Covid-19 pandemic.
Called the 'Shadow Pandemic' by the UN, violence against women and girls has escalated in the last seven months, with data showing an increase in calls to domestic violence helplines in many countries.
According to a study from Women's Aid, between March and June, 61% of survivors currently in an abusive relationship said the pandemic had made the situation worse, whilst 78.3% said Covid-19 made it harder for them to escape.
To help survivors flee from abusive situations, rail operators in the UK have rolled out an initiative called Rail to Refuge, which will be extended until the end of March 2021. The initiative was jointly set up by UK rail companies and Women's Aid and delivers free train travel to people fleeing from abuse.
In the Q&A below, Rail Delivery Group COO Jacqueline Starr explains the project's impact and what the industry could do to help further.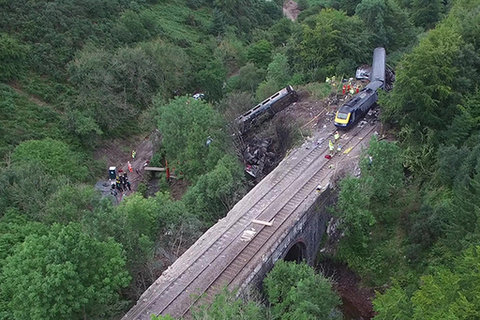 Aerial view of the derailment. Image: UK Government
Rail Delivery Group COO Jacqueline Starr. Credit: Rail Delivery Group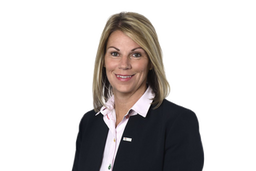 Ilaria Grasso Macola: When did the Rail to Refuge project begin?
Jacqueline Starr: Rail to Refuge was first introduced by Southeastern in September 2019, after one of their station managers, Darren O'Brien, watched a Dispatches documentary about Reigate and Banstead Women's Aid and then proposed the initiative.
Great Western Railway joined the scheme at the beginning of March 2020, to offer free travel on its routes as part of its celebration of International Women's Day.
With increasing reports that domestic abuse was worsening under coronavirus restrictions, all train operators joined the Rail to Refuge scheme on 9 April.
Since then, our staff has been working hard to support the survivors of domestic abuse with free train journeys. Four survivors a day, on average, have used the scheme, or a total of 836 people, including 210 children.
When things did start to pick up, when the lockdown was relaxed, the trains were fantastic
What was the rationale behind this new initiative?
The commitment from rail companies came as campaigners reported a rise in requests for help from victims of domestic abuse since coronavirus lockdown measures came into force.
Between 26 March and 1 April, Women's Aid experienced a 41% increase in users visiting their Live Chat site, compared to the previous week.
As a result, it extended its opening hours to 10am–4pm daily. Respect, which runs the Men's Advice Line, has seen a huge increase in demand since March and has increased service hours from 46 to 75 hours weekly to support male victims.
Rail companies wanted to play their part to help those most in need within the communities we serve. Free travel can be a lifeline for people fleeing abuse who may not have access to cash.
Many survivors have experienced years of economic abuse, which restricts their practical ability to escape. Many simply cannot afford to leave because the perpetrator has controlled their money and they have none of their own.
Why is rail such an important way for survivors of domestic abuse to flee from their abusers?
Many survivors have to travel considerable distances to get away from their abuser, depending on the availability of refuge spaces across the country. Over two-thirds of women living in refuge have moved from a different local authority area.
We have provided a vital lifeline for almost a thousand people escaping a desperate situation.
Two thirds (63%) of people that booked a journey through Rail to Refuge said they would not have travelled if the journey had not been paid for.
What can the railway industry do to help even further?
There are still too many women, men and children that need help.
That's why rail companies are now extending the scheme for the rest of the financial year until the end of March 2021. This means hundreds more survivors will access free travel, helping them to reach a safe refuge.