- ECONOMIC IMPACT -
Economists and institutions have cut their forecasts and experts are predicting the potential onset of recessionary environments.
100 million workers in 35 advanced and emerging nations were unable to do their jobs remotely and are at high risk, according to the IMF.
The World Bank forecasts Russia's 2020 GDP to contract by 6%, an eleven-year low, with a moderate recovery in 2021-2022 (6 July).
Many economists have cut their GDP forecasts; 2020 consensus forecast for world GDP growth is -4%.
Impact of Covid-19 on employment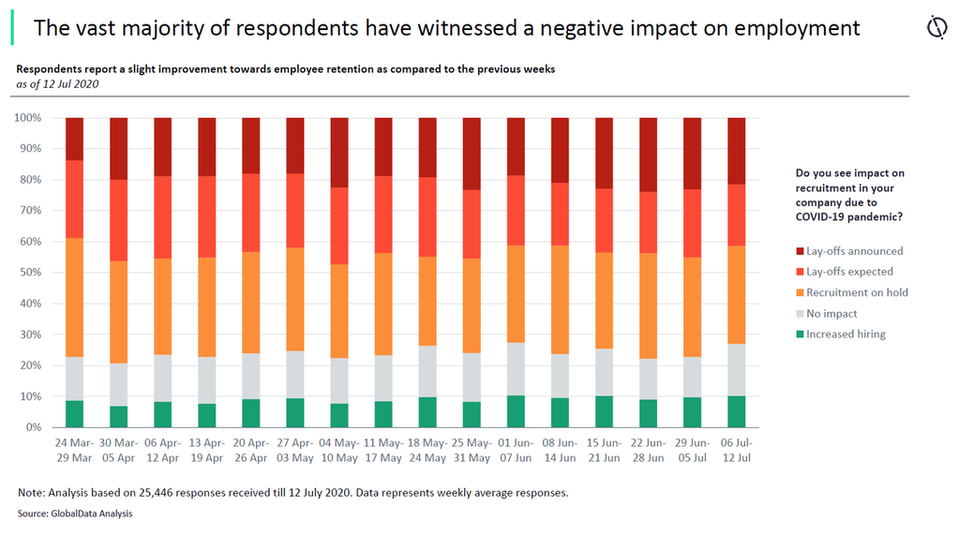 - SECTOR IMPACT: TRAVEL AND TOURISM -
international air travel impact
GlobalData forecasts that international arrivals into the 62 largest tourism markets globally will fall by 34.5% in 2020, while inbound expenditure globally will fall by 37.9% in 2020. Domestic tourist expenditure is expected to fare better, with a projected decline of 27.3%.
Travel and tourism impact
The United Nations Conference on Trade and Development (UNCTAD) projects $1.2tn loss for the global tourism sector (1.2% of global GDP). (1 July)
impact on transport infrastructure
GlobalData predicts that global construction output will contract by 2.2% in 2020. Governments and public authorities will advance spending on infrastructure projects as soon as normality returns to reinvigorate the industry.
Other industry developments
Suspending future voyages
Demand remains extremely subdued but positive signs are emerging. 98% of IHG hotels in China have reopened, while most construction work on IHG hotels in the country has also restarted. Other multi-national chains such as Marriott have seen an uptick in occupancy in China. A diplomatic spat between the US and China has seen a mutual ban on each other's airlines. Each is a major source market for the other so this will have a significant, negative impact if the problem is not resolved swiftly.
On 8 June, England introduced a 14-day quarantine for people arriving in the country. The move sparked a legal challenge from the industry. However, in early July, England announced that 70 countries and territories are exempt from quarantine requirements. There are some notable exclusions, most notably China, Portugal and the US. Scotland has its own rules and has retained quarantine measures on Spain.
Unemployment
On 11 June, Lufthansa announced that it could cut up to 22,000 jobs and on 25 June, Qantas said as many as 6,000 jobs could be lost. On 8 July, the WSJ stated that United could furlough as many as 36,000 workers at the start of October. These announcements have become a worrying trend.
Sector-specific stimulus programmes
On 8 July, UK Chancellor Rishi Sunak announced a six-month reduction in VAT from 20% to 5% on food, accommodation and attractions.