Electrified Transit Division
MAC Products Electrified Transit Division is a leader in the electrical manufacturing industry, specializing in the design and production of accessories, components, and systems for the transportation industry.
We are the source for Mass Transit power distribution accessories and systems, offering a full line of products and services designed to meet the needs of transit system operators, OEMs, repair shops and associated operations. MAC builds electromechanical devices for rapid transit and locomotive propulsion systems and manufactures a wide range of electrical components for use in the transmission of power to third-rail and catenary systems and products for heavy rail, light rail, and people-moving systems.
The Industries we support include: Diesel-electric locomotive manufacturers and Repair Shops, Light Rail and Third Rail mass transit, and Electrical Transit construction.
Our state of the art facilities, equipped with advanced computerized systems and CNC metalworking technology, and highly experienced engineering, technical and craftsmen, and their unique combination of skills have been pivotal to the successful production of high-quality products that meet the ongoing demand and requirements of the industries we serve.
Third Rail Power Switches & Distribution Products
MAC provides the industry's most complete selection of high quality, high performance, third rail power, and disconnect switches.
We manufacture a wide variety of manually operated and motorized sectionalizing switches for DC power applications; bolted pressure design and knife-blade style. Switches may be designed to incorporate electrical interlocking to prevent operation when voltage is present. These units can be tied to SCADA systems for remote operation and monitoring.
MAC Products' DC Load Break Switch is specifically designed and manufactured for traction power applications with 1000 Volts DC and current up to 6000 Amps. The Load Break switch is motor operated and can be controlled remotely or locally. Further, our switch does not require time-consuming safety checks to ensure the track is de-energized or that current is not flowing prior to operation.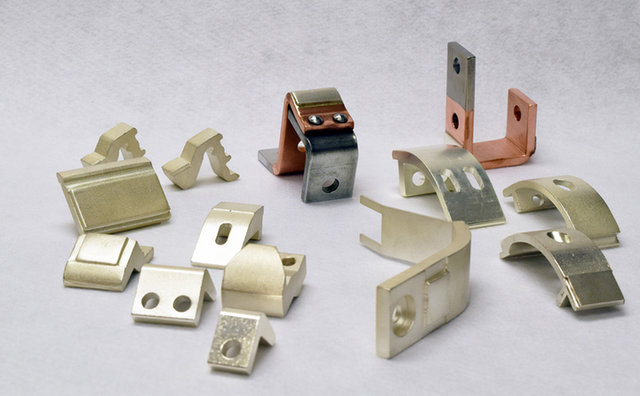 Electrical Contacts and Contactor Components
For over 50 years, MAC Products has been a leader in the electrical manufacturing industry, specializing in the production of electrical contacts, contact assemblies and electrical contactor components.
Our state of the art facilities are equipped to provide high quality, flexible and cost competitive solutions cus­tomized to meet our customers' market needs. Our advanced technology products have been implemented in a wide array of projects across the country due to their unique blend of engineering, design, durability and functional capabilities.
The Industries We Supply Include:
Diesel Electric Locomotive - Electrical contacts, contact assemplies, arc runners, shunts, contact supports.
Light Rail and Mass Transit - Specialized electrical contacts for traction power, finger assemplies, relays and controls.
Our highly-skilled, environmental-conscious and customer-focused engineering and production teams are committed to provide you at all times, with valuable, sustainable and advanced products and alternatives to maintain your competitive advantage in the market. Contact us today, to help you design durable solutions that will help you shape a successful future.
Third Rail Connection Accessories
MAC is a leading producer of compression, solder and mechanical connectors for a wide variety of mass transit applications. We design and manufacture connections to the rail for any standard or custom application.
MAC manufactures a variety of Copper Signal and Power Bonds for Signals and Communications use. Each bond can be customized, in style and length. Our bond welds can be used for welding copper to copper and steel to copper, the connections are a molecular weld and not just a superficial contact.
Stinger Energy Delivery Systems
MAC Stinger Energy Delivery Systems employ leading-edge technology to ensure system safety, ease of operation, and reliability. With over 30 years' experience in the design and manufacture of these systems, MAC is North America's leading supplier of these products.
Most transit maintenance and repair shops currently handle their auxiliary power stingers under live conditions even when they are not being applied in the train. Unsafe open and exposed current conductions, poor track operating trolley systems and flat current collecting surfaces result in dangerous conditions that often lead to serious injuries.
In response to mounting injuries and other safety issues related to auxiliary and power stingers, MAC has developed an Energy Delivery System (EDS) that uses cutting-edge technology to promote safety, ease of operation and reliability.
OEM Electrical Components and Renewal Parts
MAC offers a full line of electromechanical component parts used in propulsion and electrical systems for locomotive and transit car builders.
We manufacture a complete range of cast and tubular compression lugs and connectors, for use in a wide range of applications. MAC lugs and connectors are installed throughout the world in thousands of locomotives, transit cars, LRV's and other transit equipment. The range of our products include but are not limited to blowout coils, contact tips, bus bar, DC Contactors and components, armatures, connectors, and traction motor cable assemblies.
We design and manufacture parts that meet customized requirements, to our customer's drawings and specifications. Our engineers, technicians, and machinists can deliver any type of power distribution component for us in the locomotive, people mover, light rail vehicle, transit car or other systems.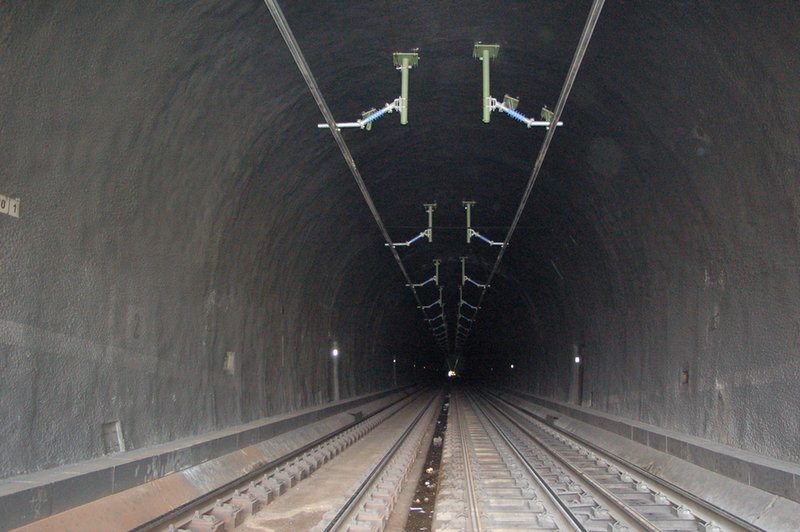 Overhead Catenary Systems/Overhead Conductor Rail Systems
Overhead Catenary Systems
Through a partnership and manufacturing agreement with Kummler+Matter of Zurich, Switzerland; MAC offers the Adaptable Railway Cantilever System (ARCAS) for light rail, tram, electric trolley bus, streetcar and commuter railway systems to customers in North America.
ARCAS is a modular system consisting of multi-functional components. This modularity, together with the system's compatibility with existing products, makes it easy to implement conversions to overhead electrification systems.
MAC Products supplies the Tensorex Spring Tensioner. This product is an innovative tensioning device for Overhead Catenary Systems (OCS) that provides constant pull force on the messenger and contact wires while compensating for its elongation or contraction due to temperature variation. Through our partnership with Pfisterer, this tensioning device offers several significant advantages over a traditional balance weight assembly. It is safer because the device is mounted at the wire termination height, which is away from pedestrian reach. It is more compact and lighter, which translates to reduced installation time and visual impact. It is also a cost-effective solution as the unit is self-contained, requires no maintenance and easy to transport to the installation location.
The Tensorex Spring Tensioner is expected to provide long uninterrupted service based on the intense tests that it was subjected to - fatigue, ultimate tensile strength, snap release, efficiency and salt spray.
Overhead Conductor Rail System
Through a partnership and manufacturing agreement with Railtech-KLK of Gijon, Spain; MAC offers the overhead conductor rail system (OCR) for light rail, streetcar, and commuter railway systems. The OCR system can be complementary to OCS in instances where clearance is an issue or where tensioning the wires is impractical, as in the case of tunnels, bridges or maintenance facilities. The OCR can be designed to be retractable when not in use. The messenger wire is no longer required and maintenance of the OCR is minimal.
Overhead Catenary Systems Projects
MAC engineers, manufactures and supplies the complete OCS system; cantilevers, balance weight assemblies, fixed terminations, head spans, pull-off assemblies, mid-point anchor assemblies, section insulators, jumper assemblies, hanger assemblies, pole brackets and disconnect switches.

MAC Products has worked with a broad range of OCS contractors in the United States, on many varied projects over the last 20+ years. These projects have incorporated the design, manufacture, and installation of the complete light rail system. Recent projects that MAC has been involved with are:
Gilbert Road Light Rail
Extension – Mesa, AZ
LACMTA Regional Connector
Caltrain – Spring Tensioner
Amtrak – Spring Tensioner
LA Crenshaw Yard Maintenance Facility Project
Metro-North Railroad – Snow-melter
MARTA - Emergency Trip Station (ETS)
LACMTA Blue Line Resignalling Project
Maintenance Facility Traction Power System
Gilbert Road Light Rail Extension – Mesa, AZ
LACMTA Regional Connector
Caltrain – Spring tensioner
Amtrak – Spring Tensioner
LA Crenshaw Yard Maintenance Facility Project
Metro-North Railroad – Snow-melter
MARTA - Emergency Trip Station (ETS)
LACMTA Blue Line Resignalling Project
Maintenance Facility Traction Power System
60 Pennsylvania Avenue
Kearny, NJ 07032
Gilbert Road Light Rail Extension – Mesa, AZ
The Valley Metro Transit Authority, fresh off their successful Central Mesa and the Northwest Extension light rail extension projects, approved and constructed the Gilbert Road light rail extension. MAC Products, Inc. was awarded the OCS material contract in August 2017. MAC provided all of the material from the poles out, such as the cantilevers, fixed terminations, mid-points, hangers, jumpers, and balance weight assemblies. The 1.9-mile extension will provide an important link to the neighboring regions of downtown Mesa, Tempe and Phoenix. The project is currently in the final stages of construction and scheduled for revenue service by March 2019.
MAC Products, Inc. was honored to be awarded the contract for the City of Milwaukee's first Streetcar project. The Milwaukee Streetcar (aka The Hop) is an initial 2.5-mile line connecting the Milwaukee Intermodal Station and downtown to the lower East Side and Historic Third Ward neighborhoods. Construction began in late 2016 with revenue service starting early November 2018.
LACMTA Regional Connector
In preparing for the 2022 Super Bowl and the 2028 Summer Olympics, the City of Los Angeles Metro Transit Authority is in the process of "fast-tracking" multiple mass transit projects. The first of these projects is the Regional Connector Transit Corridor, a light rail tunnel through Downtown Los Angeles to connect the Blue and Expo Lines to the current Gold Line and Union Station. This project represents LACMTA's first installation of a rigid catenary system (OCR) into their light rail network. MAC products was involved in the design and fabrication of the OCR. Construction is scheduled to start in 2019.
Caltrain – Spring tensioner
Caltrain is in the process of electrifying their 51 miles of track from San Francisco to San Jose. This upgrade will replace 75% of Caltrain's current diesel service with electric power, providing cleaner, greener, and better service to the Caltrain community. The OCS electrification is being done by Balfour Beatty. In lieu of the traditional balance weight assemblies for maintaining tension on the contact and messenger wires, MAC Products provided Balfour Beatty with Tensorex auto-tensioning units. These units are maintenance free and require no setting changes due to temperature variations. Eighteen units have already been installed, with a total of 100 units planned.
The Wellington Carhouse is the primary repair and maintenance facility for MBTA's Orange Line. In 2017, construction began to expand and make improvements to the existing facility. In the same year, MAC Products was awarded the contract to manufacture the DC equipment for the maintenance facility. The equipment included a 13-section DC Switchboard with a 6000 amp high-speed circuit breaker, wall mounted disconnect switches, the ceiling mounted rail stinger system, and various stinger control panels. The project also required specially designed cable reels with an auxiliary plug.
Amtrak – Spring Tensioner
MAC Products worked with Amtrak to solve an ongoing maintenance and performance issue with their auto tension catenary system in the Northeast Corridor. MAC supplied multiple Tensorex C+ spring tensioners to replace the existing weight stack and pulley system used to maintain tension on the catenary wires. The first four units were installed, with MAC supervision, by Amtrak linemen and put into service in December 2018. The units were installed overnight, in 20-degree temperatures, without interrupting revenue service. These units will relieve the maintenance crews from the continual task of greasing, adjusting and inspecting all of the components of the traditional balance weight assemblies.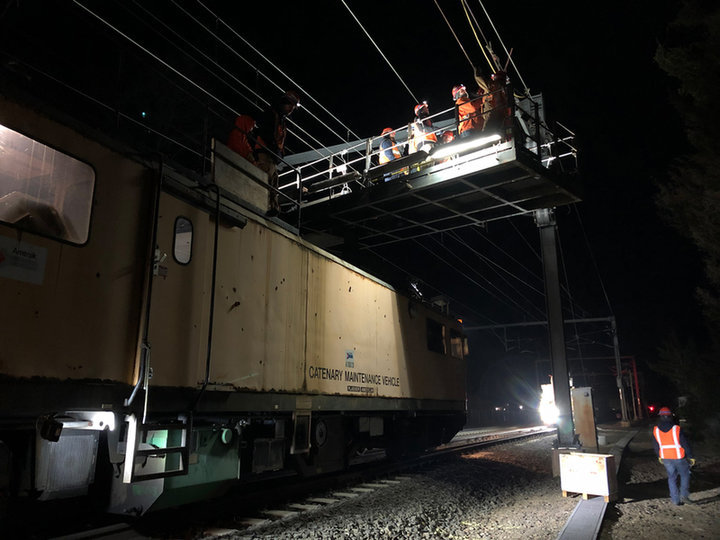 LA Crenshaw Yard Maintenance Facility Projec
Located adjacent to LAX, MAC Products designed and manufactured the traction power DC distribution systems for the new Los Angeles Metro's Operation and Maintenance Facility. The equipment consisted of a multi-section manually operated DC Switchboard, sectionalizing wall mounted switches for the shops' traction power, and motorized disconnect switches for the yard's overhead catenary tracks for remote and local operation. Custom control stations and safety devices were also designed in order to control the facility's stinger systems.
Metro-North Railroad – Snow-melter
MAC Products' Snow-melter is part of the Metro-North Railroad snow-melter system. Consisting of a 750VDC power distribution section and a control equipment section, the input traction power is fed through a primary or alternate 750VDC source. The output is designed to supply traction power up to 12 branch snow-melter circuits and can be operated by a remotely connected contact.
The equipment includes features such as LED beacon light, door interlock, interior lighting, and interior heating. In addition, there are a series of mechanical and electrical interlocks within the circuit that allows only one power source can be connected at a time.
In the event of control voltage failure, traction power can be redirected manually by an operator to power the Snow-melter circuit.
MARTA - Emergency Trip Station (ETS)
MAC Products recently designed and manufactured, traction power system emergency trip stations (ETS) and auxiliary emergency trip stations for the Metropolitan Atlanta Rapid Transit Authority (MARTA). The emergency trip stations and auxiliary emergency trip stations are NEMA 4x, low smoke, and low flame rated for use in enclosed areas. Each station was provided with a push button to be used as a trip to de-energize the line on the enclosure and a phone with its own compartment and access door. The auxiliary emergency trip stations were also provided with a push button for tripped and used in tandem with emergency trip stations in various locations throughout the line.
LACMTA Blue Line Resignalling Project
Los Angeles Metro has been upgrading their Blue Line recently. MAC Products is the manufacturer and supplier of the new overhead contact system (OCS). MAC manufactured and supplied replacement OCS assemblies for the existing traditional catenary as well as an overhead rigid catenary (OCR) system for the 2 tracks within a 3,000-foot tunnel in downtown Los Angeles.
The replacement effort includes offering functional equivalents of various OCS assemblies, often requiring a customized solution to address the specific challenges. As an example, custom elastic arms were supplied to accommodate the new design requirement of a highway underpass.
The implementation of the rigid catenary system is offered by MAC Products (USA) in partnership with KLK (Spain). MAC/KLK provided the design of the rigid catenary system and various support assemblies; the production of the necessary components and on site technical guidance and supervision during installation.
Maintenance Facility Traction Power System
For the MBTA Wellington Yard, MAC Products Inc. is proud to be the manufacturer of the shop Traction Power System equipment. The traction power system consists of a High-Speed DC Breaker, 13-Gang Disconnect Switchboard, Multi-Track Overhead Rail with Stinger Trolley, and Stationary Auxiliary Power Cable Reels. This system offers a complete solution to the in-shop traction power supply, allowing for the remote operation to power specified locations within the shop, and safely provide traction power to the car whether it is moving or stationary.
60 Pennsylvania Avenue
Kearny, NJ 07032