Overtourism is harming the climate. What can be done?
Dave Keating investigates new initiatives that aim to draw people out of the world's most popular destinations to lessen tourists' impact on the Earth.
Venice has many nicknames: the 'Queen of the Adriatic', the 'Floating City' and 'La Serenissima' – the most serene. But as anyone who has been to Venice knows, on a typical day it can feel anything but serene.
The city is notoriously mobbed with tourists. Up to 120,000 people visit Venice each day in peak season, but it has only 55,000 permanent residents. It is a phenomenon known as "overtourism", where too many people visit the same place at the same time.
Overtourism is a big problem, with 80% of the world's tourists only going to 10% of the world's destinations, according to the start-up consultancy Murmuration. Venice is probably the most notorious example, but other European cities such as Barcelona, Amsterdam, Dubrovnik and Prague are also badly affected.
The problem does not just make life unpleasant for residents and visits less enjoyable for tourists, it also puts significant strain on the environment and is hurting the climate. So many people flying into the same place degrades local ecosystems and natural defences against the effects of climate change. This in turn is causing worries that these oversaturated cities are going to be particularly vulnerable to climate change.
The UN's World Tourism Organization and the International Transport Forum concluded in 2019 that 5% of global emissions – and 22% of global transport emissions – are from transport-related international and domestic tourism.
Overtourism's worst offender is cruise ship tourism, which in 2016 emitted 24–30 million tonnes of CO₂, with per-passenger emissions ranging from 1.2–9 tonnes of CO₂ per trip. By comparison, a transatlantic flight emits a bit less than one tonne of CO2 per passenger, according to the International Council on Clean Transportation. That means taking a cruise emits up to nine times more carbon than flying across the Atlantic.
Luring with the lagoon
In Venice, overtourism is affecting the lagoon in which it sits in the form of pollution, resource depletion, stressed waste management systems, strained water supply and improper drainage. As sea levels rise and the city experiences more intense flooding, overtourism leaves Venice more vulnerable.

I was born here, so it breaks my heart to say it, but Venice is too overcrowded and it is full of tourists every day.
The city has made some efforts to change the tide, banning cruise ships of more than 55,000 tonnes from docking in the city centre since 2021. Venice Mayor Luigi Brugnaro has also been pushing for more drastic solutions such as turnstiles that would separate residents from tourists and an entry fee for the city, but so far those have been resisted.

Yet the lagoon, the very thing being harmed by overtourism, could also provide a solution. Some tour operators are starting to think about other ways people can visit.

"I was born here, so it breaks my heart to say it, but Venice is too overcrowded and it is full of tourists every day," laments Gianluca Maggiori, a cycling travel tour operator in the Veneto region that surrounds Venice. "If you want to get a very real experience of the Veneto region, you must go outside and explore the countryside," he said during a trip through the lagoon.
The Covid-19 pandemic, which saw tourism to Venice suddenly stop completely, gave tourism operators a chance to pause and think. While the city stood eerily deserted, and businesses had to worry about how they would make ends meet, some also started to think – what if we didn't go back to overtourism after this?
Maggiori and a group of other tourism operators in the Veneto region decided to launch the 'Slow Flow' concept, organising visits around the rivers that feed the Venetian lagoon by bike and boat. This can draw tourists out of Venice. It can also make for a more authentic experience.
Coaxing with Catalonia
Barcelona has also been trying to entice tourists out of the city centre. Even before the pandemic, Mayor Ada Colau vowed to tackle overtourism in 2019 by cutting cruise ships and limiting the expansion of its airport.
The Catalan Government is trying to lure tourists to other destinations in Catalonia such as Girona, an ancient city with beautiful surviving city walls which, though just 87km from Barcelona, is rarely visited.
Barcelona's problems could be considered even more alarming than Venice's because the surge in tourism has been so sudden, whereas Venice has been a tourist destination for centuries. Barcelona had 1.7 million overnight visitors in 1990, a figure which had risen to eight million by 2016 thanks to the city's revamp prompted by hosting the 1992 Summer Olympics. The city's population is 1.6 million.
That surge has resulted in a pollution tragedy. Barcelona now has the second-highest rate of plastic waste ending up in the sea in the entire Mediterranean, according to a 2019 WWF report. Trash now accounts for 38% of fishing boats' catch in the seas between Barcelona and the nearby coastal city of Vilanova i la Geltrú.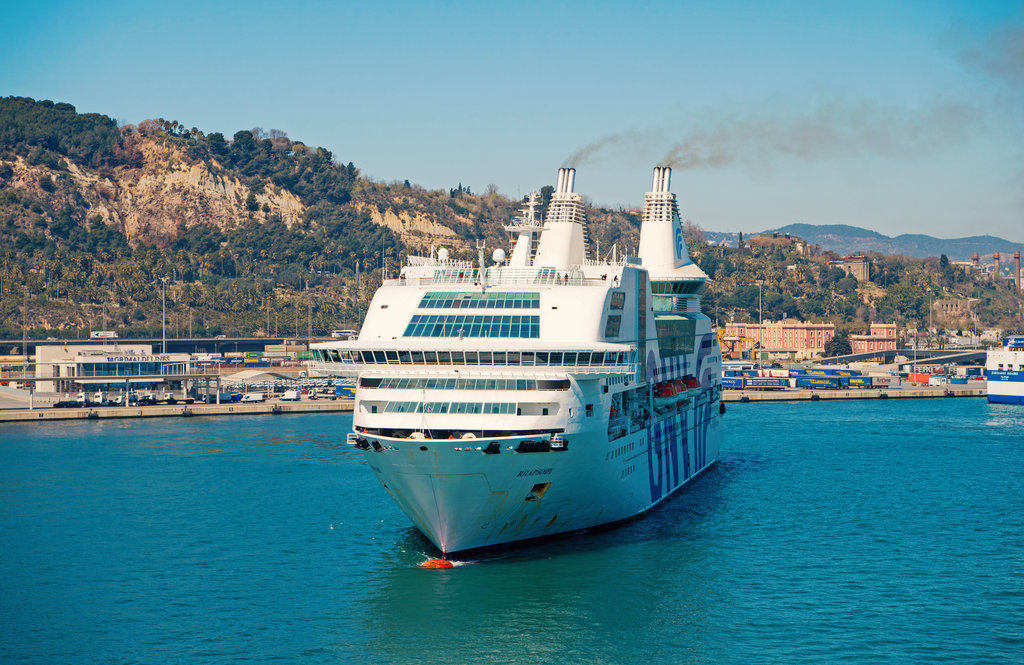 The GNV Rhapsody Genova in Barcelona harbor. Credit: Just dance/Shutterstock
High levels of noise and air pollution are also caused by planes and cruise ships dumping tourists into the town. Of the tourists arriving in Barcelona, 82% do so via aircraft, with hardly any arriving by train despite Spain's excellent high-speed rail network, thanks to France's failure to complete its portion of a high-speed rail connection across the Pyrenees.
Cruise ships have an even more damaging effect, with seven ships carrying a total of 18,000 passengers and 6,000 crew docking at Barcelona's port each day.
According to a 2016 University of Barcelona AQR-Lab study, most passengers visit the city for around five hours, spend an average of €57 each and return to their ships at night. This means their environmental impact on the city is greater than their economic contribution to it.
Cruises accounted for 28.5% of Barcelona's carcinogenic nitrogen oxide and 3.5% of the city's particle pollution. The fuel oil used by cruise ships contains 2,000-times more sulphur oxide than ordinary diesel. Barcelona was named the worst port in Europe for cruise ship air pollution in a 2019 report by the NGO Transport & Environment.
Tackling tourism around the world
The Netherlands has also been trying to spread out its tourists, and its tourism board is no longer promoting Amsterdam. Instead, it is promoting other Dutch cities like Utrecht and Rotterdam, easily accessible from the capital.
Iceland, which each year receives two million visitors, compared with its population of 350,000, has launched a Tourist Site Protection Fund, and the capital of Reykjavik has stopped issuing construction permits for new hotels.
Other actions have been more drastic. Thailand closed an entire destination, Maya Bay, in 2018 to allow nature to regenerate after the site became overwhelmed by tourists and boats after being featured in the 2000 movie The Beach.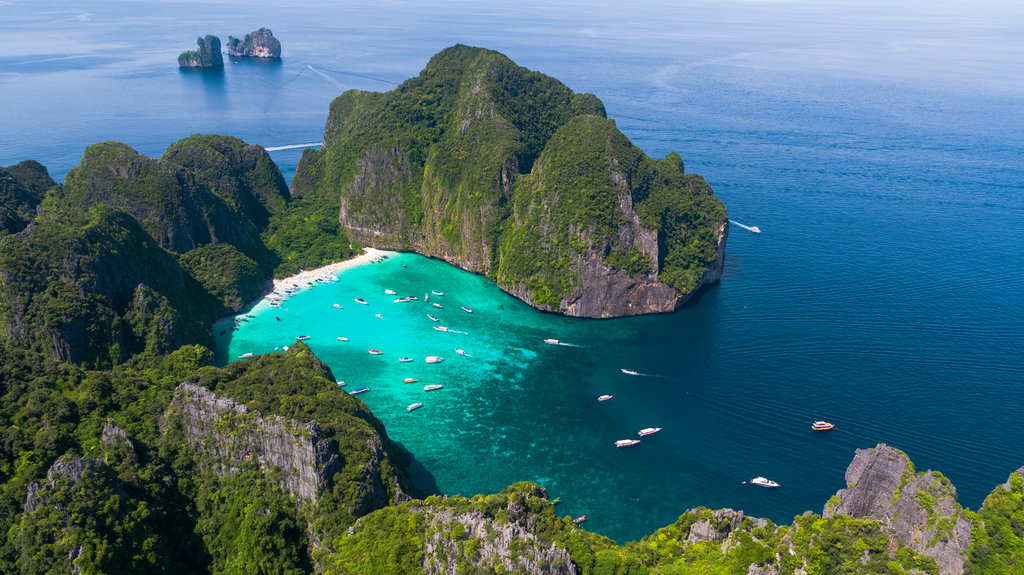 An aerial view of iconic tropical Maya Bay in the Phi Phi Islands, Thailand, which was closed in 2018 due to overwhelming tourist numbers.
The tiny beach received 2.5 million visitors the year before it closed – more than 6,800 per day. All the boats and people destroyed large parts of the coral reefs, which had a devastating impact on the ecosystem and local rare sea life.
The government reopened the bay last year, but with new efforts to spread tourists around to other locations in the area and limit the number of visitors. In particular, the government is trying to get tourists away from the city of Phuket to less well-known secondary destinations nearby.
Costa Rica has also had some success in diverting tourists, receiving the 2019 Champions of the Earth award from the UN for, among other things, its efforts to limit tourism's impact on nature and climate by marketing off-season travel and spreading tourists around.
Measuring overtourism's climate impact
In France, the EU-funded initiative Climate-KIC has launched Murmuration, a start-up that combines environmental studies and a web platform, Flockeo, to provide reliable indicators of a tourist destination's impact on the environment and climate.
This can be useful for the tourism industry, municipal authorities and tourists themselves, who are increasingly aware of the damaging environmental impact of their trips.

We have to make it easier for our hotel partners to become more sustainable.
A 2019 survey by MMGY Travel Intelligence found that 60% of US travellers believe tourism overcrowding will have a significant impact on destinations they choose to visit within the next five to ten years.
48% of travellers believe that climate change will have a significant influence on what destinations they want to visit. A survey by Booking.com in April of last year found that 71% of global travellers intend to travel more sustainably in the future.
The travel and tourism industry has taken notice. "In November 2021, we released our Travel Sustainable programme," said Danielle D'Silva, head of sustainability at Booking.com, at a recent event in Brussels.
"What we see is that sustainability is currently a niche part of the market. Less than 1% of accommodations currently have a third-party sustainability certification – only about 6,000 of the millions of hotels on our platform. So, we realise to make it easier for travellers to make those decisions they want to, we have to make it easier for our hotel partners to become more sustainable."
A new future of tourism
The big question, however, is whether travellers are willing to make sacrifices and think of new ways to reduce the carbon footprint of their travel. The Breda University of Applied Sciences in the Netherlands recently launched a project exploring what kind of tourism we will need to reach the goal of net-zero emissions by 2050.
The results found that tourism patterns would only have to be adjusted a bit to be in line with net-zero goals, simply by adjusting the way we travel rather than the number of trips.
"The outcome of this study was that the number of trips, nights, and revenues can potentially simply grow like in business as usual, up to 2050 and even after," explained Paul Peeters, professor of sustainable transport and tourism at Breda University of Applied Sciences, at the Brussels event.

Something between 85–90% of all trips in 2050 in the zero-emissions scenario would still be the same as in the business as usual.
"Something between 85%–90% of all trips in 2050 in the zero-emissions scenario would still be the same as in the business as usual. So, you would have to change 10%–15% of tourism along the way in 30 years' time."
Spreading tourists out to destinations like the rivers around the Venice Lagoon could be part of the answer for delivering that 10%–15%. Maggiori says tour operators in the Slow Flow project want to be part of the solution, and more customers are open to new destinations.
"In these last two years after the pandemic, many Italians started to discover the countryside," he noted, saying he sees an increasing interest in not just going to the same tourist hotspots as before. "Our business is growing very fast and we are happy about that."
This article was originally published on our sister site, Energy Monitor