- ECONOMIC IMPACT -
Latest update: 20 October
The unemployment rate in OECD nations stood at 5.9% in August 2021, down from 6.1% in July 2021
The jobless rate in the Eurozone stood at 7.5% in August 2021 as compared to 7.6% in July 2021
The IMF has revised global growth forecasts for 2021 to 5.9%
The World Trade Organization forecasts merchandise trade volume to rise by 10.8% in 2021
IMPACT OF COVID-19 ON EMPLOYMENT OUTLOOK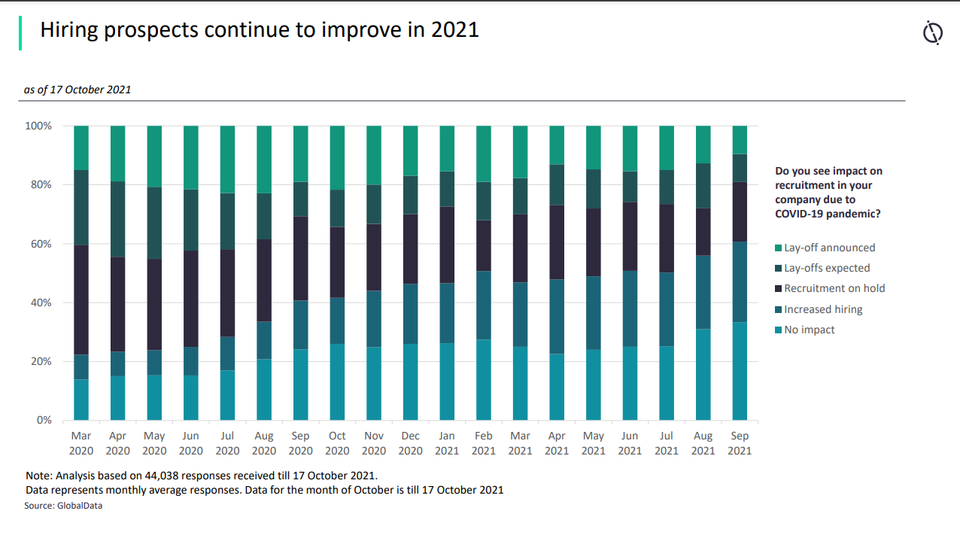 - SECTOR IMPACT: TRAVEL AND TOURISM -
A potential "lost decade" for passenger growth. Caveats and variations on state aid will lead to uneven recovery. Manufacturers are moving to develop longer-ranged single-aisle aircraft. IATA recently predicted even bigger debts for airlines with fewer passengers expected to fly than previously predicted.
Airline traffic continues to be volatile, and any surge in cases in a country is negatively impacting carriers. Recovery will be long, and airlines prices are not expected to recover until at least 2022.
International travel demand continues to remain low, but signs are improving as more governments reduce restrictions and introduce favourable travel rules for vaccinated travellers. Domestic demand continues to lead the recovery.
Intermediaries have long supported the idea or have been working towards a form of 'super app'. This app would act as one, integrated platform that would enable a customer to freely book each aspect of their trip, travel and pay their way throughout their holiday.
In order to stimulate customer demand, many intermediaries are incorporating more offerings to ensure a more seamless travel experience. International travel demand remains low meaning the outlook is still not rosy.
Low tourist demand means many cars rental companies have been forced to sell their fleets in order to stay afloat during the Covid-19 pandemic.
Markets in which airport pickup is the largest channel, such as the US, have particularly suffered, but the effect has been felt all over the world.
But as demand picks up, with more people traveling and supply still down, major price hikes are likely to be in store for anyone who wants to rent a car.
Key Travel And Tourism developments