First of its kind audio guide to improve accessibility in Bristol Temple Meads
Pyramid schemes: a look into Egypt's megaprojects
Jasleen Mann learns about Bristol Temple Meads' efforts to improve accessibility for blind and partially sighted people at the UK railway station, as it becomes the first station managed by Network Rail to have an audio guide readily available for passengers.
N
etwork Rail and The British Sight Loss Council (BSLC) have collaborated on an audio guide to assist blind and partially sighted people navigate various sections of the station. The guide consists of 12 audio files, on the Network Rail site, each dedicated to different a section of the station to guide the listener through the space.
Renovations have altered certain areas of the station as they have become one-way routes or temporarily closed in order to complete works on the station's train shed roof, which involves the use of various scaffolding towers.
"The most challenging part of creating the guide was thinking about the passenger experience from the perspective of somebody with a visual impairment," says Carla Watts, senior communications manager for projects at Network Rail.
Brightline senior vice president, corporate affairs, Ben Porritt
First of its kind
"Sight Loss Councils, led by blind and partially sighted members, work with businesses and service providers to improve the accessibility of services," says Emma Hughes, director of services at Thomas Pocklington Trust, a national charity which supports blind and partially sighted people.

"They use their lived experience to create powerful change within our communities, working in partnership with others to create this change."
Network Rail worked closely with the BSLC throughout the development and testing phases of the audio guide, which is the first of its kind, to bring lived experience into the process.
"Everyone should be able to rely on accessible public transport and be able to travel independently and safely," adds Hughes.
"We want to ensure all forms of transport are fully accessible to blind and partially sighted people across the country, enabling everyone to live the lives they want to lead in an independent way."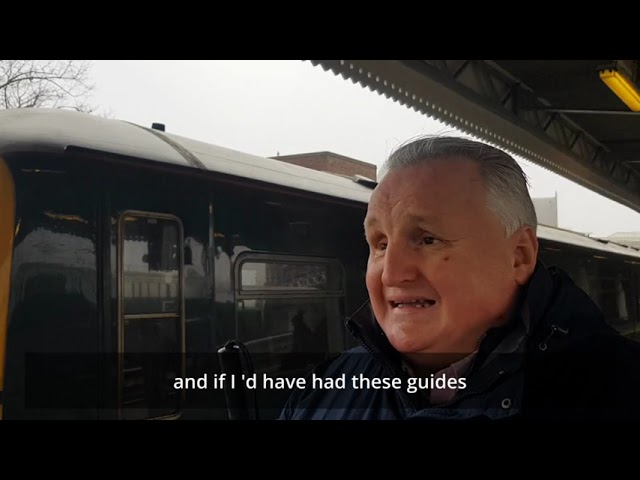 The guide includes a platform list summary, information about the taxi rank, main entrance, exits and shops as well as guidance for specific platforms and destinations. Information for passenger assistance, customer services, toilets and lifts are also included in the guide.
Guide users are encouraged to share any feedback that could enhance its accessibility and the development of any future audio guides as a result.
When Network Rail rebuilds or refurbishes a station, it follows the guidelines of the Equality Act 2010 so that all platforms are accessible for wheelchair users and those with impaired mobility.
From December 2021 to March 2022, Network Rail focused on installing tactile paving at Bristol Temple Meads.
Improving accessibility at Bristol Temple Meads
"We are continually looking for ways to improve accessibility at our stations in line with our Disabled Persons' Access Policy," Watts says.
The Network Rail policy includes installing lifts and ramps, improved car parking spaces, accessible toilets, mobility assistance buggies, induction loops at information offices, text phones at station receptions, and high contrast wayfinder signage.
"We want everyone to feel welcome at our stations and are constantly looking to improve accessibility for people who experience disability. Alongside the audio guide, all our station signage has been designed in high contrast so that it can be more easily read," says Bernadette Sachse, Network Rail's station manager for Bristol Temple Meads.
"We install tactile paving on our platforms to improve safety and have ensured that Bristol Temple Meads can be easily navigated by those using a wheelchair.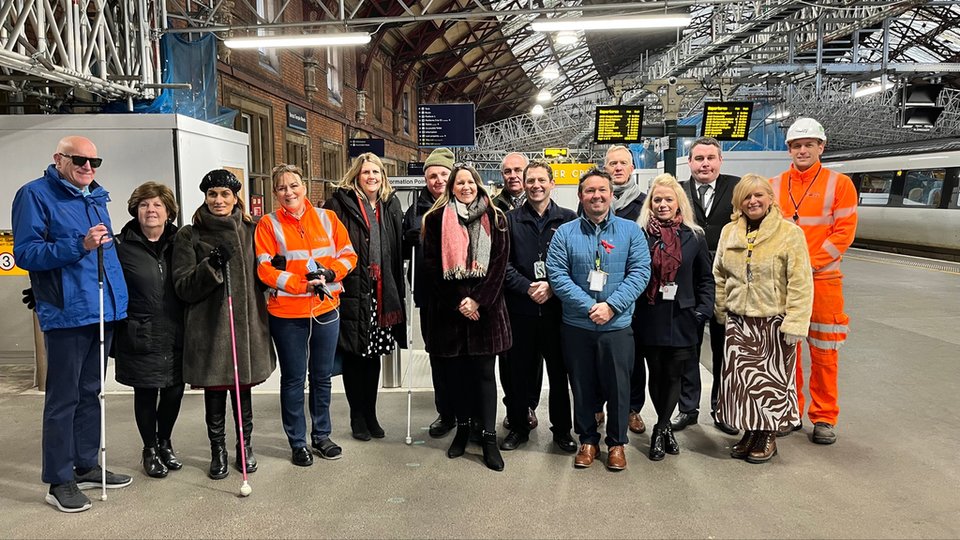 Staff at the launch event for the audio guide at Bristol Temple Meads. Credit: Sight Loss Councils/Network Rail
This project was a first for Network Rail's web team, with other challenges relating to the development of the guide including considering how to host and present the content.


Network Rail expects to collaborate with the BSLC on wayfinding guides for other stations, including London Paddington and Reading. These plans have already begun but are in the early stages.
"It's been fantastic to work with the Sight Loss Council, who have tested the audio guide to make sure that it's as user friendly as possible," adds Sachse. "I hope that this useful tool allows people to feel more confident in using our railway."
Main image: The world-famous Flying Scotsman steam engine running on the East Lancashire Railway. Credit: Karl Weller/Shutterstock