- ECONOMIC IMPACT -
The OECD estimates global economic growth of 3% in 2022, a 1.5 percentage point downgrade from its previous projections.
The Deutsche Bundesbank revised its 2022 economic growth projections for Germany to 1.9%, from its earlier projection of 4.2%
Unemployment in OECD nations stood at 5% in April, a marginal decline from 5.1% in the previous month.
The unemployment rate in the Euro area stood at 6.8% in April 2022, unchanged from the previous two months, according to Eurostat.
IMPACT OF COVID-19 ON EMPLOYMENT OUTLOOK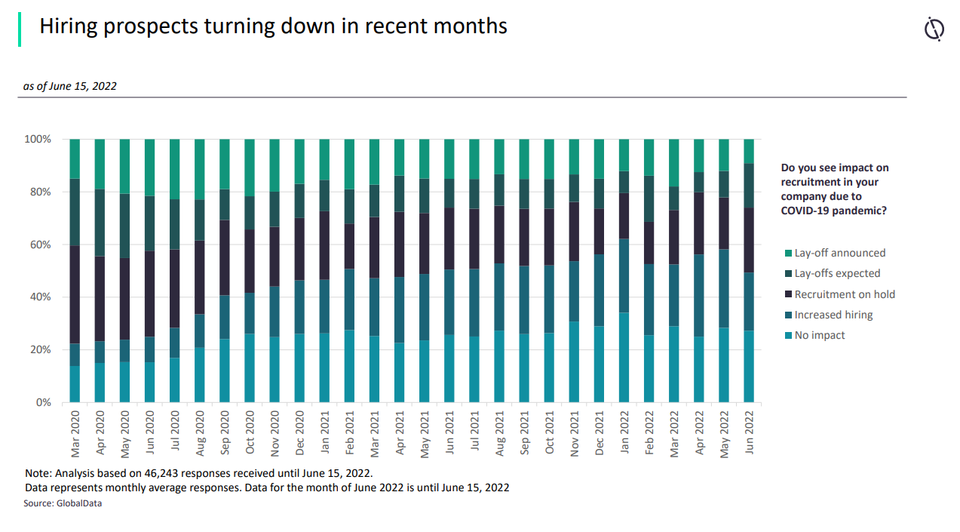 - SECTOR IMPACT: TRAVEL AND TOURISM -
Travel and tourism summary
Most major travel restrictions have been withdrawn, allowing international passengers to move freely. However, some travellers are still concerned about the spread of the virus. Furthermore, the increased cost of living and rising inflation is set to impact consumer behaviour significantly.
Domestic tourism remains an area of intense focus and has led to substantial price surges in some markets. However, travel intermediaries are engaging in aggressive marketing towards international travel with some advertising for as late as 2023 to increase levels. Furthermore, some intermediaries and low-cost airlines are reporting similar capacity to 2019, which is an encouraging sign.
While Covid-19 continues to threaten the travel industry, the concern is now switching to the economic issues brought on by the pandemic. Inflation and the increased cost of energy are very real issues impacting prices and disposable income on a global scale.
As tourism is not an essential good or service, many 'would-be' tourists could drop their travel plans altogether this year, impacting the speed of recovery.
Low tourist demand means many cars rental companies have been forced to sell their fleets in order to stay afloat during the Covid-19 pandemic.
Markets in which airport pickup is the largest channel, such as the US, have particularly suffered, but the effect has been felt all over the world.
But as demand picks up, with more people traveling and supply still down, major price hikes are likely to be in store for anyone who wants to rent a car.
Key Travel And Tourism developments