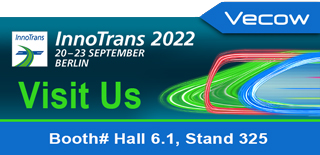 A Path Forward for the train journey comfort and safe
A Path Forward for the train journey comfort and safe
The pantograph is an essential component of electric trains and is mounted on the roof of the rail vehicle to collect current from the overhead lines and transmits the electricity that powers electric trains. It allows rail vehicles to travel at high speeds without losing contact with the overhead Catenary line. Therefore, the train can travel as far as the lines go without losing power supply. However, the pantograph can grab the wire and tear the wire down. On the other hand, a line can break away or damage the pantograph. Another issue is that manual inspections are costly in labor and reduce the efficient operation of the train systems because the train is needed at the station for repairs, not in-service.
Rail companies and infrastructure owners use pantograph monitoring systems to detect and prevent the pantographs from failure, as well as scheduling predictive maintenance for those assets. The systems use an innovative and reliable technology to eliminate the risk of pantographs damages and safety risks of manual inspection.
Smart Pantograph Monitoring Technoloyg is driving the digial railway
Smart Pantograph Monitoring Technoloyg is driving the digial railway
Newly technology is to combine the latest 3D laser scanner, computer vision technology and deploy AI to provide automated analysis of the diverse condition of pantographs. The technology deliver alarms that require immediate action to prevent potential damage to overhead wires and trains, as well as providing accurate measurements used for preventive pantograph maintenance. This way, it helps reduce time and effort with fewer manual pantograph inspections and early inspections before the damages occurred to avoid the train service distruption.
The 3D scanner offers detailed and accurate data for rail conditions and its surroundings. The adoption of AI enables rail operators to quickly and efficiently implement advanced capabilities that collect and process massive amounts of data for diverse types of pantographs and trains and require real-time response.
Vecow Embedded Computing Systems
Vecow High-performance Embedded Systems leverage AI capabilities and offers predictive alerts and analytics that can lower costs, reduce damage and optimize asset usage and equipment performance. The systems are designed for outdoor weather conditions and delivers reliable performance.
Small form factor NVIDIA® Jetson Xavier™ NX supports up to 21 TOPS AI performance
Multiple I/O:4 GMSL2 automotive cameras with Fakra-Z connectors, 4 LAN with 2 PoE+, 4 USB, 1 Isolated CAN Bus, 2 COM
Reliable connectivity supports for 5G/4G/LTE/WiFi/BT/GPS
9V to 50V DC-in, EN50155 certified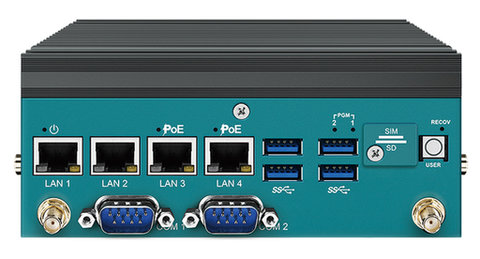 Workstation-grade Intel® processor supports up to 65W TDP CPU

Multiple I/O:Max. 9 GigE LAN with 4 2.5G PoE+

Flexible storage: 2 2.5" SSD, 4 M.2 SSD trays (optional)

9V to 50V DC-in, Software Ignition,

EN50155 certified

Workstation-grade Intel® processor supports up to 28W TDP CPU

16V to 160V DC-in

Multiple I/O:2 LAN, 4 USB, 1 SIM socket, 2 COM, 2 Displayport

Reliable connectivity supports for 5G/4G/LTE/WiFi/BT/GPS

EN50155 certified