- ECONOMIC IMPACT -
Latest update: 16 February
According to the National Bureau of Statistics, China's GDP expanded by 8.1% to reach $17.7tn in 2021, whereas the EU's GDP expanded by 5.2% to reach $17tn during the same year.
According to the IMF, global economic growth will slow down to 4.4% in 2022, compared to 5.9% in 2021. The real GDP growth rate of the advanced economies has been projected at 3.9% in 2022.
The unemployment rate in OECD nations stood at 5.4% in December 2021, compared to 5.5% in November 2021.
The unemployment rate in the Euro area stood at 7% in December 2021, a marginal decline from 7.1% in November 2021.
IMPACT OF COVID-19 ON EMPLOYMENT OUTLOOK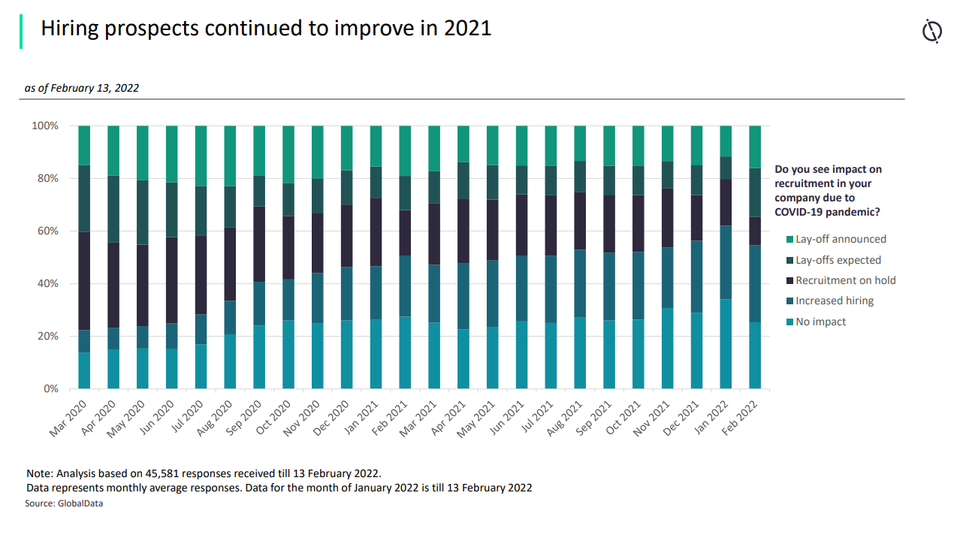 - SECTOR IMPACT: TRAVEL AND TOURISM -
The airline sector is recovering gradually from Covid-19, but revenue passenger kilometres (RPKs) are still estimated to be only 40% of pre-crisis levels in 2021.
Major airline companies such as International Airlines Group predict a return to profit in 2022. It said it had more than halved its losses to $3.9bn in 2021, having cut staff numbers and costs during the pandemic.
It may still recover this year if its operations avoid further impact from the pandemic. However, the Ukraine crisis looks to be another setback.
For the fourth quarter of 2021, major online booking platforms showed strong signs of recovery. For the quarter, Booking.com posted revenue of $3bn, which was up by 141% from the previous year.

Its competitors echoed similarly impressive growth. Expedia experienced 148% top-line growth in the same period, and Airbnb posted 78% revenue growth for the same quarter.
Low tourist demand means many cars rental companies have been forced to sell their fleets in order to stay afloat during the Covid-19 pandemic.
Markets in which airport pickup is the largest channel, such as the US, have particularly suffered, but the effect has been felt all over the world.
But as demand picks up, with more people traveling and supply still down, major price hikes are likely to be in store for anyone who wants to rent a car.
Key Travel And Tourism developments