Sound PLAN's railway noise mapping module consists of two parts – emission and propagation calculation
How does the technology map noise?
The software works by collating information based on types of rail and rolling stock, as well as frequency, size and speed. The mapping software then produces graphical representations of the noise using colours to depict the different levels. This enables laypeople as well as scientists and engineers to read the reports.
Schaal says that SoundPLAN's railway noise mapping module consists of two parts – emission and propagation calculation. "Information relating to the number of trains, type and length, speed, and details of the rail surfaces are fed into a calculation that determines the emission level," he says.
He adds that should conditions change in traffic speed, volume or surface type and the noise is accentuated, "a new emission value is computed".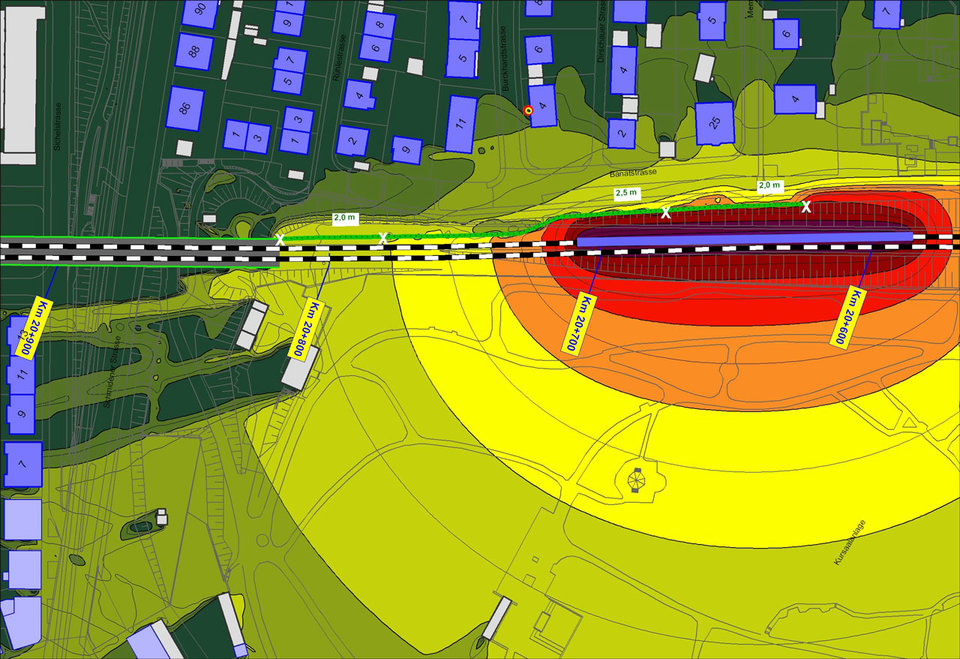 Noise mapping of a train line. Image: SoundPLAN
Reliability allows for more careful planning
Schaal says that by leveraging the software to calculate noise propagation, rail companies can focus on the practical part of noise planning, present the software-generated calculation and research to municipalities, environmental administrations and government bodies who can then plan mitigation processes.
Schaal adds that SoundPLAN's noise maps are more reliable than manual measurements as it can automatically identify individual sources of noise emissions in a location and the direction the noise is travelling.
In addition, the software-generated maps include animation features that can predict the progress of a train along its route and identify the noisiest areas which might be influenced by topography and obstacles such as cuttings, embankments, tunnels and noise protection walls.
"Mapping software can not only show the most cost-effective measures, but it can also help with risk assessments, to show where a company should focus its attention," Schaal declares.
Having debuted in 1986, the software solution was developed by an interdisciplinary team consisting of engineers, geographers, physicists and computer science specialists, he says.
Mapping software can not only show the most cost-effective measures, but it can also help with risk assessments