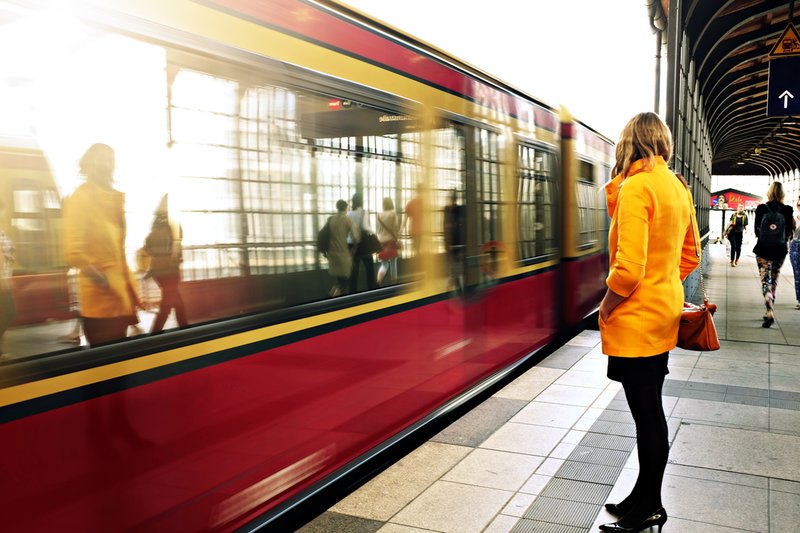 Adele Berti: How does your platform work?
Udi Sharir: Save A Train digitises the whole rail ticketing area. We have products for consumers and businesses, ranging from application programming interfaces (API) to white-label and metasearches.
In general, the main value proposition is simplifying and digitising the rail industry. Take a simple task like choosing the type of seat you want; you have dozens of options to pick from, and this is not the way to get people moving to rail from air.
In Europe, sometimes you also have ticket reservation ages, which is a crazy idea. For example, if you're youth, in some countries you need to be above 18, in others above 20, and differentiating seniors and adults is also a maze, but that's the maze that we solve.
Can you expand on your AI algorithm and big data solutions?
A demonstration of the Adaptable Carriage
Artificial intelligence is something we use with fluctuating price tickets. Train tickets change more than ten times, on average, from the time you purchase until the train leaves. We know that people usually purchase train tickets about three weeks before departure, so, we have travel management companies (TMCs) which can predict when is the best time to purchase or when passengers can even exchange their tickets.
But the other side of the angle is that the technology actually helps us to be agile about adding more and more railways to our API. We built a layer on top of everything to simplify all the challenges that I've just mentioned [in the previous answer]. There are a lot of cumbersome tasks within the industry's ticketing system that we needed to create some algorithms to solve them and simplify it for the users.
What differentiates you from other existing booking platforms in Europe?
In the railway industry you do have websites like Trainline and Loco2, but they aren't many compared to the airline industry. Airline websites are double the size of rail, whose market worth is around the area of $270bn, while air is around the area of $550bn.
So, you have very few players in the rail industry and that's because you hardly even have universities that teach about rail. It's a myth that you get either, as you say in programming, by 'brute force', or by working for long years in the industry, otherwise you just don't get it.
And in terms of IT, the industry is not performing well due to lack of the same venture capital the aviation industry and other sectors have been receiving in the past decades.
If you take a look at venture capitalists and how much was invested in aviation back in 2008, when Skyscanner started, and then in intermodal booking when Expedia launched, and after that, when the Airbnbs of the world arrived, there was no moment in history when heavy investments were made in the rail IT sector.
Can you explain what this new partnership with ConfirmTKT is about?
ConfirmTKT is the largest independent railway seller in India and one of our main strategies is to go and invest in international tourism opportunities, so we identified India and China as key markets.
Also, in the past, both Indians and Chinese used to travel as groups while now they like to travel more independently. As soon as ConfirmedTKT saw this shift in their customers' habits, it decided to explore a pilot. And that pilot was then turned into a full partnership, where we were able to help them by supplying them with a white-label based on our technology.
Why is rail travel in Europe the preferred visiting transport method for India?
Even before Sweden's flight-shame movement, there was an unwritten rule in Europe that if you're travelling for less than 500km or four hours, you don't take an aeroplane. Now, a lot of people actually say that aeroplanes are cheaper than rail, but rail is actually cheaper because it doesn't involve queuing at the airport, travelling to the airport, without even taking into account the convenience you have in rail to always arrive into the city centre. So, it's very easy to convince Indians or Chinese people that rail is the better option.
The UK is not among the countries included in your solution. Why?
The issue for us is that there are several segments in rail: you have passes, e-tickets, paper tickets and you have vending machine code-based tickets. Most of the tickets sold in the UK are vending machine code-based.
As millennials, we don't believe in that, we only believe in e-tickets and we also have a thesis that passes will not be there for very long; they work now because the occupancy rates are rather low compared to airlines in Europe, though as soon as they go up again, there won't be need for passes.
Now, in the UK, not all trains are being offered e-tickets and that's something we don't want to show to our clients, because if you still have to stand in line to get your ticket from a vending machine, Save A Train didn't do anything to help, we didn't simplify anything, we just took a bad product and engaged a bad product.
What's coming up next for Save A Train?
We continue to expand, and we're happy because often one of the problems start-ups have is finding clients, but in the railway industry there aren't too many players, so finding clients is not hard at all.
All governments in Europe and outside Europe are investing in infrastructure. One of the heaviest investments that any government makes is in infrastructure. So we're in an industry where there is a lot of interest and we just lay the software foundation on top of it.
And even if you take a downturn, this is a business that is not hurtable because freedom of movement is something that any government is after.