Laing O'Rourke is a $6 billion international operation with 50 years of involvement in Australian construction and infrastructure including more than a decade under the Laing O'Rourke banner.
The business is currently delivering some of Australia's most exciting projects across the transport, building construction, defence, airports, civil and social infrastructure sectors.
Laing O'Rourke – which has been recognised three times on the AFR's Most Innovative Australian Companies index - is committed to becoming the recognised leader for innovation and excellence in the construction industry.
As a dominant rail infrastructure provider, we are engaged in almost all operating jurisdictions in our Australia Hub, giving us unrivalled experience in undertaking work globally. We are recognised around the world for our ability to self-perform innovative and cost-effective rail solutions, ranging from urban commuter service upgrades to cross-country heavy haul rail lines.
These major multidisciplinary projects involve programme management, civil engineering and tunnelling, track installation, electrification services, signalling, rail systems and maintenance services for scores of unique rail systems worldwide. Through direct delivery, innovative partnering and joint venture arrangements, we construct metro and light rail, underground, mass transit commuter, freight and heavy haul networks in our core geographical markets.
Laing O'Rourke has successfully delivered challenging metro rail projects across the globe. Working within a small footprint in, around and beneath cities demands superior logistics management of people, plant and materials.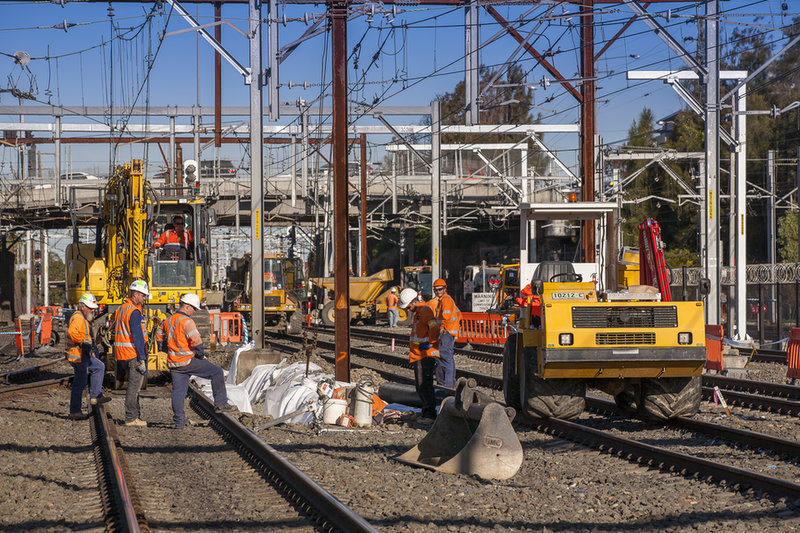 In Australia, the business successfully delivered the Sydney Yard Access Bridge in 2018 - the first early and enabling works package of the NSW Government's Sydney Metro City & Southwest project. The project set Laing O'Rourke up for success ensuring it was well placed to secure even more work for Sydney Metro and earlier this year Laing O'Rourke was awarded significant Sydney Metro projects including Central Station, Sydenham Station and Junction and the Main North Shore Corridor Works project.
The $955 million contract will deliver the new metro platforms at Sydney's Central Station, including the landmark new pedestrian concourse Central Walk. The project will be the catalyst that revitalises and anchors urban transformation to the south of the Sydney CBD.
In Adelaide, the business successfully completed the Torrens Junction Rail Junction earlier this year, a $238 million project that saw Laing O'Rourke responsible for removing major pinch points in the rail freight and road network to increase the flow of freight on the Perth-Adelaide-Melbourne national rail line.
As market leaders in traction power, overhead wiring and substations, Laing O'Rourke has designed and delivered railway electrification installations and upgrades for different rail systems and operators around the world. The business has also designed and delivered key power supply upgrade projects to a number of existing major rail networks around the country.
In Perth, Laing O'Rourke delivered the Stadium Rail Project which included the design and construction of a new six-platform Perth Station and associated railway works to serve the stadium. The station is the second largest station on the Transperth network.
Our expert delivery teams have completed integrated facilities that encompass stabling yards, maintenance depots and power systems to deliver more efficient and reliable rail systems.
Laing O'Rourke delivered a purpose-built $190 million train maintenance facility, as part of the Queensland Government's New Generation Rolling Stock Project. The maintenance centre will accommodate six-car rollingstock to be delivered as part of the project.
Laing O'Rourke was also the first contractor in Australia to gain accreditation as a rail operator following the introduction of rail safety legislation in the 1990s, and the first contractor to be recognised as an Authorised Engineering Organisation by the New South Wales Government. The organisation has played a significant role in the development of rail standards across the country. A member of the Australasian Railway Association and the Rail Industry Safety and Standards Board (RISSB), Laing O'Rourke participates in the ongoing review of legislative frameworks around Australia.
The business also plays an important role in reviewing safety practices and processes applied by the rail industry and were a key stakeholder involved in assessing the impacts of road rail vehicles.
The business is an industry leader in Digital Engineering – or advanced Building Information Modelling using data matched against interactive models – with a number of reference projects currently being tested by State and Federal authorities.
This state-of-the-art digital prototyping technology enables us to integrate data about a project's design, construction and future function to develop the most efficient methods of delivery and operation.
It drives efficiencies from day one, and reduces capital and whole-of-life running costs, enabling us to develop accurate milestones for the build programme to achieve greater predictability and assurance of the outcome.
Laing O'Rourke is firmly committed to continuously expanding its capacity and capability in the rail sector.