Sponsored by SAB Bröckskes
Interview - Cable and Wires
Since 1808 GHH-BONATRANS has been involved in wheelset making. for more than two centuries we have developed an extremely high level of expertise which makes us capable of reacting to any challenges or requirements for wheelset solutions such as mitigation. This could never be possible without an innovative soul and a focus on systematic research.
H
olland LP is a dedicated engineering-driven company that excels at developing partnerships with its customers to deliver comprehensive and progressive solutions for the railroad and related industries. Headquartered in the US, Holland is the premiere provider of flash-butt welding technology across the globe with equipment operating in over 35 countries.
Holland's Railway Measurement Systems & Services (RMSS) business unit is the North American industry leader in Track Geometry Testing Services with over 20 years of experience. ArgusTM Track Geometry/Profile Testing Systems combined with Holland's Rangecam Track/Tie Replacement Planning Services currently process data for approximately 100,000 miles of track a year. With autonomous testing on the horizon, Holland's exChaingeTM asset intelligence platform will provide web based online maintenance planning and provide the data intelligibility needed to increase the value of every mile of track tested.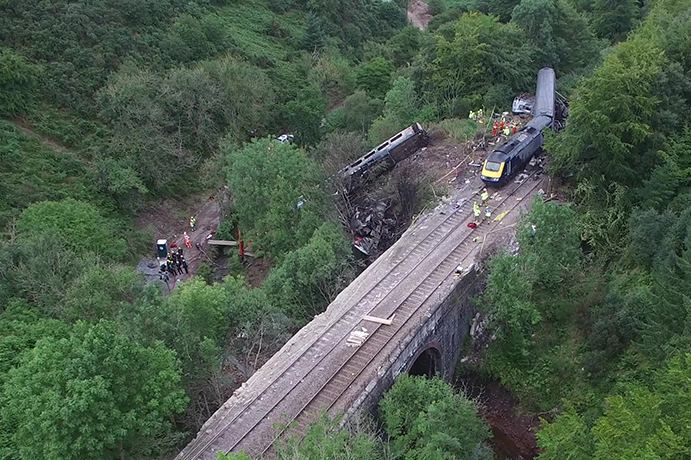 Aerial view of the derailment. Image: UK Government
Please give an overview of SAB Bröckskes and how long has the company been active in the railway sector?
For more than 70 years SAB Bröckskes has been developing and producing special cables, cable assemblies and temperature measurement technology with more than 400 employees at its Viersen site. For more than 30 years we have been working with customers from the railway industry and have built up a profound network in this sector. Our broad positioning in various industries and many years of experience in direct cooperation with industrial customers allow us to draw on comprehensive expertise and a wide range of manufacturing technologies and different materials. Our customers benefit from our competent advice and high product quality.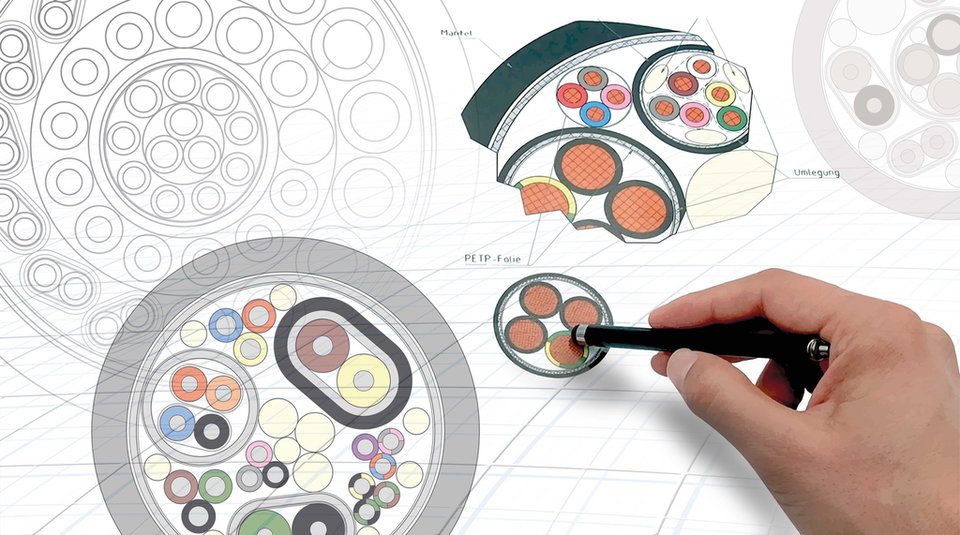 Safety assurance for onboard signalling and safety systems including ETCS and CBTC
What challenges does the railway industry face with regard to cables?
GHH-BONATRANS designs, manufactures and supplies complete noise absorbing systems specifically aimed for different market segments of rail passenger transportation (urban, suburban and inter-city).
For about three decades, great efforts have been made with regard to fire protection in the railway environment to increase personal safety and to technically prevent tragic fire accidents of the past years, as well as to establish or improve uniform standards for interoperability on the European market. New EU regulations and EU standards have been developed for the European area, which affect a cable manufacturer to a great extent and limit the choice of insulation and sheathing materials or require the development of completely new materials. For the different production processes and technologies, even materials that are already suitable for the various manufacturing processes and technologies must be further developed and modified to meet the respective requirements of the manufacturers. This requires considerable personnel and financial expenditure. In addition, enormous expenses are incurred for the certification of the relevant EN standards (e.g. EN 45545), which can swallow up a high six-figure sum. The certification must be renewed every five years on the basis of the applicable terms.
GHH-BONATRANS designs, manufactures and supplies complete noise absorbing systems specifically aimed for different market segments of rail passenger transportation (urban, suburban and inter-city).
How does SAB Bröckskes ensure that its railway cables are flame resistant and self-extinguishing?
First of all, the materials used are sampled on the basis of the fire protection requirements and tested in our combustion chambers for their suitability. In addition, SAB has all product groups for the railway sector tested and certified in accredited external laboratories.

In the course of further development, new insulation materials from suppliers are continuously tested for flame retardancy and, if necessary, qualified for use in railway technology. This also applies to our latest cable type RailLine 560, which excellently meets the high flame retardancy requirements and is also suitable for use in mechanically dynamic applications, in indoor and outdoor use and in oily environments, such as in railway construction machinery.
Can the track cables from SAB Bröckskes be tailored to individual requirements?
This is our particular focus, not only in the rail sector. We manufacture customer-specific special solutions, such as hybrid cables in which power supply, signal transmission and bus system are integrated in one cable. We manufacture even small batch sizes from 300 meters. For customer-specific cable design, we use our extensive modular system of already certified materials. If, for design reasons, an individual certificate is required for the acceptance documents, we also plan the certification for our customers.
What distinguishes the railway cables from SAB Bröckskes from others on the market?
Our strength lies in the development and production of specific solutions for small production lots. In addition, our service and intensive consultation enables us to score points with our customers and develop new solutions together. These are qualified for use according to customer requirements in our in-house technical centre in various test facilities or ageing and environmental tests. Due to our high quality targets, we only use high-quality raw materials from renowned suppliers.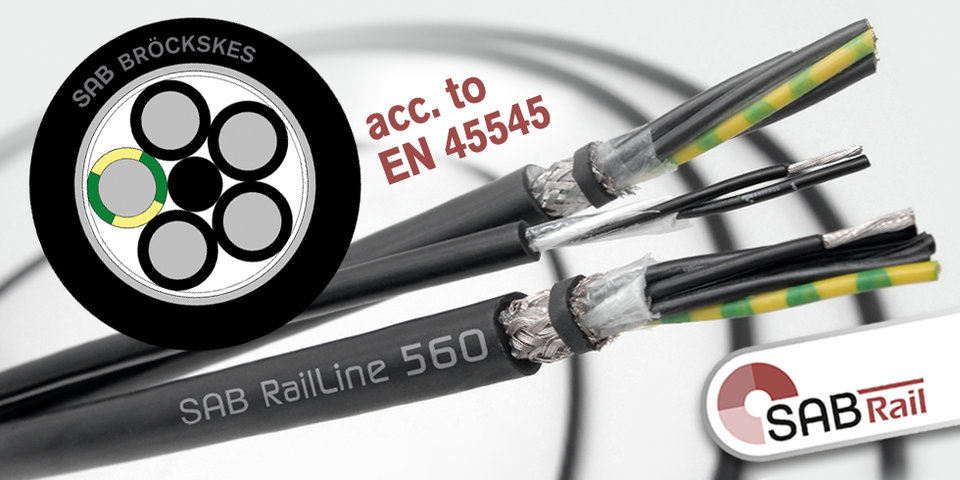 Cable manufacturer since 1947
Special Cables | Cable Harnessing | Measuring technique
SAB Bröckskes is one of the world's leading cable manufacturers and suppliers of harnessed cables and wires as well as temperature measurement and sensor technology. 75 years of experience in temperature measurement and control technique as well as in cable production have made a one man business a company with nearly 550 staff members, which more than ever stands for outstanding quality "Made in Germany".

Our expertise in construction of highly flexible special cables according to customer specifications for the most diverse applications for example in the fields of automation, robotics, crane- and railway technology. Subsidiaries and representatives all over the world, e.g. in China and the USA, help to find the optimal solution from more than 1500 new special products every year.
Contact us