Is Brightline still on track to revolutionise high-speed rail in the US?
Despite having to suspend services in response to the Covid-19 crisis and ending its branding deal with Virgin Trains, Brightline – the only privately owned intercity rail service in the US is pushing ahead with ambitious expansion plans. Julian Turner gets the inside track from senior VP Ben Porritt.
Adele Berti: Taxing the railways is counter-productive and a smack in the face for sustainability
It's supposed to be a fairly straightforward equation: travelling via rail is less polluting, so more people using it equals substantial decreases in the UK's carbon output. And yet, as passengers and commuters prepare to return to their offices after long months of lockdown and the summer holidays, rail fares remain high and are expected to increase by 1.6% in January, based on July's annual Retail Price Index.
Meanwhile, far bigger polluters in the aviation industry still get away with relatively low air passenger duty, the absence of value-added tax charges (which the railways don't pay either) for international flight tickets in the EU, and a tax fuel exemption. All the while, rail transport is responsible for up to 85% less carbon per passenger kilometre than several other forms of transport, according to research published by the Campaign for Better Transport.
Sustainability championssuch as Germany, Austria and Luxembourg have acknowledged this disparity and are pioneering new initiatives to make rail travel more convenient at aviation's expense. For example, last year Germany approved a 10% cut in long-distance rail fares for the first time in 17 years. The Austrian Government has promised an expansion of its rail network and plans to increase taxes on flights. Lastly, Luxembourg is making all public transport free.
On
13 January 2018, the first Brightline diesel-electric train left Miami bound for West Palm Beach, Florida, commencing the first privately owned passenger rail service in the US in a century, and setting in motion a high-speed rail revolution that continues to gather momentum.
The express intercity service connects Miami, Fort Lauderdale and West Palm Beach, with a further phase two extension from South Florida to Orlando (in the centre of the state) on schedule for 2022.
Brightline is also adding three additional stops along the South Florida Express line, including stations in Aventura, Boca Raton and PortMiami, and pressing ahead with the construction of a high-speed line that will connect Las Vegas in Nevada with Victor Valley, California and, ultimately, Los Angeles.
Ground is due to be broken on the rail construction for the new Brightline West project by the end of 2020, with station construction along the 170-mile route earmarked for the second half of 2023.
And all this against the backdrop of the Covid-19 pandemic that forced Brightline to shut down its regular service in March, not to mention the dissolution of the company's deal with Virgin Trains, which had seen it rebranded as Virgin Trains USA. Despite these setbacks, the company insists its mission to provide "a private sector solution to a public need" remains well and truly on track.
Brightline senior vice president, corporate affairs, Ben Porritt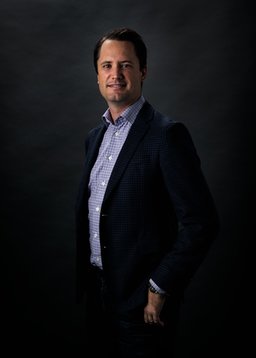 "We suspended our operations in south Florida at the onset of the coronavirus pandemic at the end of March, but continue to aggressively move forward on construction and approvals for our other projects to Orlando," confirms Brightline senior vice-president, corporate affairs Ben Porritt.
"Construction has never stopped. We just broke ground on our new station in Aventura, Miami Dade County, and then we will move aggressively [onto] our project to connect Las Vegas and Los Angeles.
"There are a number of trends that point to the success of high-speed rail in the US more than at any other time in recent history. Brightline is a great example and one that people are rooting for."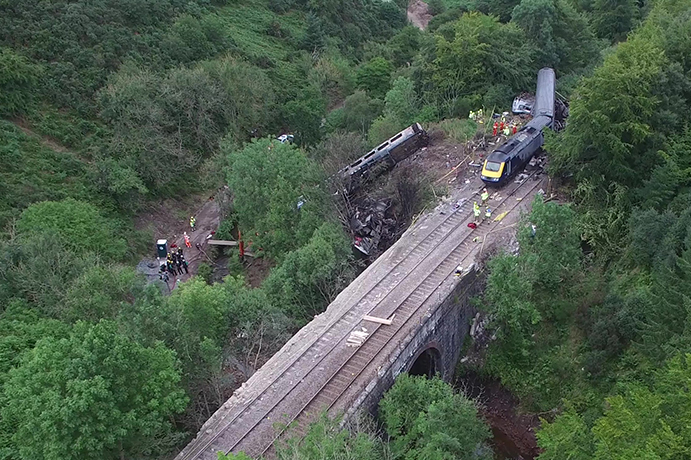 Aerial view of the derailment. Image: UK Government
Can Brightline attract air and road travellers?
Brightline was conceived in 2014 as a radical solution to long-term road congestion in South Florida. Roughly 500 million trips are taken between Miami, Fort Lauderdale, West Palm Beach and Orlando every year, 95% in private vehicles, making it one of the most heavily trafficked corridors in the US.
Another factor is when cities are within 250–300 miles of each other, making it too short a distance to fly and too long to drive. Orlando, which is approximately 235 miles from Miami, fits that criteria.
By offering an eco-friendly, efficient service – the 235-mile trip between Miami and Orlando takes around three hours, Miami to Fort Lauderdale less than 30 minutes, and West Palm Beach from Miami less than an hour – Brightline hopes to accelerate the modal shift from road and air to rail.
Road and short-haul air travel are tremendously unsustainable ways to cover short distances

"Road and short-haul air travel both waste tonnes of gas and are tremendously unsustainable ways to cover short distances," states Porritt. "In addition, Florida is home to the Everglades to the west and the Atlantic to the East. We have to commit to not putting more concrete on the ground and that means rail networks that go beyond just the north-east corridor with the likes of Amtrak."
Brightline aims to remove three million vehicles from roads each year and its Charger locomotives are equipped with state-of-the-art EPA Tier IV-compliant diesel-electric engines that only use FPL EarthEra™ clean biodiesel for lower emissions. What's more, Brightline's stations use FPL SolarNow Solar Trees that provide power and shade to facilities, while generating emission-free energy.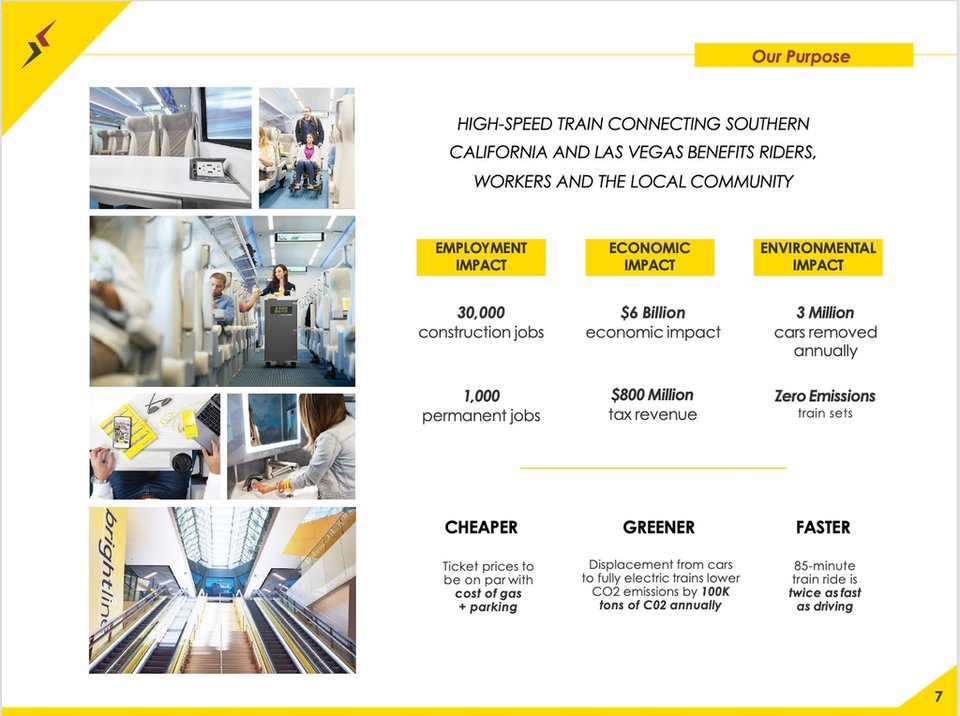 By offering an eco-friendly, efficient service, Brightline hopes to accelerate the modal shift from road and short-haul air travel to rail.
Financing high-speed rail in the US
However, high-speed rail networks do not automatically offer significant carbon emissions savings. To do so, they must also be energy efficient during the construction phase, and services must be frequent and near capacity. Porritt addresses the latter point first.
"Today, 50 million trips take place between Nevada and Los Angeles, 85% of them by car and bus," he says. "The Brightline West project features fully electric, zero-emission trains, offset with carbon-neutral energy. In addition to reducing road congestion, it has the potential to remove hundreds and thousands of metric tonnes of CO2 from the atmosphere every year.
"For high-speed rail to be successful in America we need to look at existing rights of way, whether that be a highway or a rail facility," he continues. "In California/Nevada, for example, the corridor for our new line will be built in the middle of the existing I-15 Interstate highway, through a lease negotiation.
The Brightline West project features fully electric, zero-emission trains, offset with carbon-neutral energy
"This is a great example of how a public/private partnership can reduce the cost estimations of a rail project, and do so without additional impact on the environment, as the highway is already there."
What sets Brightline apart, however, is the fact that it is 100% privately financed by New York-based Fortress Investment Group. It also uses tax-exempt private activity bonds (PABs) issued by local or state governments to finance its operations in Florida, and will also do so in California and Nevada.
"PABs are sold to the private market but are allocated by a federal agency or state agency," explains Porritt. "However, the US Department of Transportation has exhausted its PABs and the government needs to increase that over time to get the private sector more involved in infrastructure projects."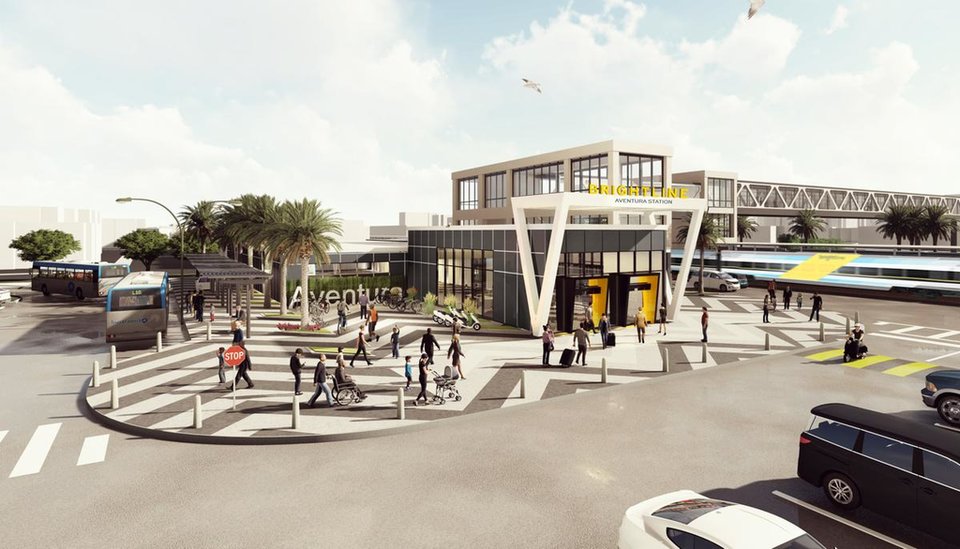 Brightline is adding three additional stops along its South Florida Express line, including a station in Aventura in Miami-Dade County.
Safety in the post-Covid landscape
Porritt won't be drawn further on the background to the termination of Brightline's partnership with Virgin Trains; instead, we return to the subject of Covid-19 and its ongoing impact on the industry.
"We are evaluating a number of factors around reopening, including Centers for Disease Control and Prevention guidelines, but we have not identified a specific date when services will return," he says.
"Fortunately, we were ahead of the game on many fronts that relate to a safe, clean environment. We had already put in place a cashless, touchless system, whereby passengers can essentially walk through from ticketing to boarding without having to touch anything –you simply scan with an app. We also already had reserved seating and fibreglass barriers between almost every seating row."
People want to spend more time on tablets, phones and screens, which means they don't want to be driving.
We conclude by asking Porritt why Brightline is more confident than ever in its unique private-ownership model and if high-speed rail has a long-term future in the US, a country in love with the automobile.
"People want to spend more time on tablets, phones and screens, which means they don't want to be driving," he says. "In fact, fewer people are getting driver's licences than they were 30 years ago.
"There is also more interest in having a pleasant travel experience. Brightline is based on hospitality, reliability and ease of use – we have taken everything that people think they know about train travel and flipped it on its head, creating a station and an environment that people want to spend time in."
Brightline operates a cashless, touchless system at its stations, including this one at West Palm Beach.