Mobility with vision
Goldschmidt combines with its companies all the expertise for the construction, maintenance, inspection and monitoring of railway networks. The unique global network of experts gives you access to the international range of products and services of Goldschmidt - at your location, with your local contact person and the power of the whole group.
A
detailed inspection of the track condition is essential to enable predictive maintenance, which will assure the long-term efficiency and reliability of your railway network and rolling stock. Goldschmidt's measurement and inspection technology provides the assurance your operation requires. In addition, our extensive catalog of measuring and testing devices is capable of detecting and analyzing the contributing factors to rail defects. Our precision equipment can be deployed in all rail environments, which empowers you to complete inspections with the assurance of accurate defect analysis.
Goldschmidt offers you measuring and testing solutions together with documentation for the geometry and failure analysis of railway tracks. These solutions enable you to identify deviations and derive preventative maintenance measures to ensure a longer service life for rails, switches and wheels. In the long term, this ensures an optimal condition, lower maintenance costs, higher safety and punctuality.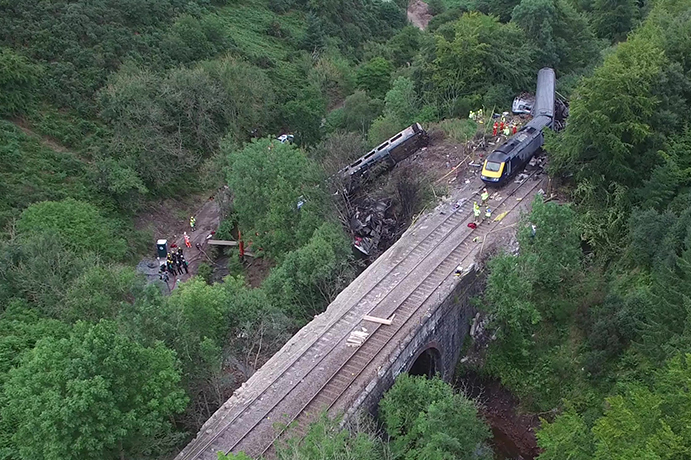 Aerial view of the derailment. Image: UK Government
Everything for your tracks
Goldschmidt offers a comprehensive range of products and services worldwide for the joining of rails, modern construction of railway track, and inspection of your track infrastructure and its maintenance.
Proven processes with Know-how
Our low maintenance LEDMLD dual marker and single marker safety lights are designed for energy efficiency and a long lifespan. Innovec LED products are used on metro and suburban railway networks in Australia, as well as freight locomotives and transport applications such as the mining industry.
We believe in industry innovation, where reliability, low maintenance and long lamp lifecycle for rail vehicles and trams is essential. This is important as Australia has some of the world's heaviest and longest freight trains and large urban rail networks, while Melbourne has the world's largest light rail (tram) system.
LED safety lighting has been provided for railway projects in Scandinavia, India, the USA, and mainland Australia, including Sydney, Melbourne, Adelaide, Brisbane and Perth.LED safety lights have been used on railway vehicles across Australia, Norway, India and the US.
The extent of the flooding and the scale of the damage is something I have never witnessed before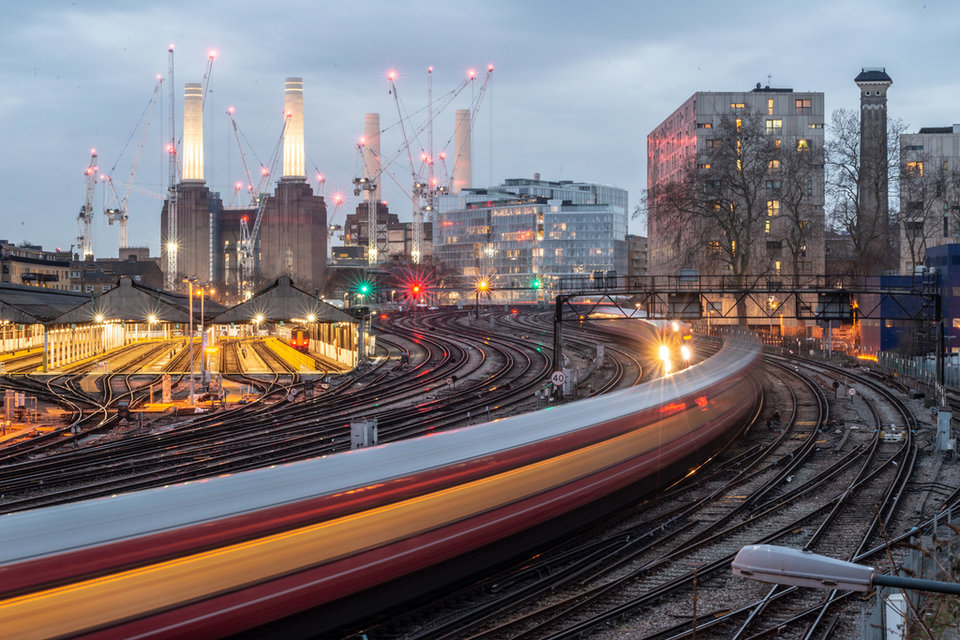 LED safety lights have been used on railway vehicles across Australia, Norway, India and the US.
Passengers want to reach their destination safely and in comfort. Companies want to economically transport freight on time. And network operators require a railway network with a long service life which can be run profitably without operational restrictions.
Rail joining
The railways are the most reliable, comfortable, economic and ecological way to transport people and goods. They are therefore an integral part of all viable and sustainable mobility concepts. But this requires reliable railway tracks with a long service life. Many railway organizations such as Amtrak in the US, the Chinese National Railway and the light rail networks in Europe operate their trains and trams on Goldschmidt expertise. Around the world high-speed trains, freight trains, heavy load trains, trams und underground railways glide over continuously welded track. This is made possible by the Thermit® welding process which enables Goldschmidt to make an excellent connection between almost all types of rail.
Track modernisation
Holistic concepts for sustainability and achievement of environmental targets are big challenges for today and the future. This ties in directly with the increasing interest in modern railway mobility along with railway infrastructure which will remain viable in the future. Goldschmidt offers innovative products and services worldwide which are tailor-made for the renovation and modernization of railway tracks with the focus always on the future of your railway network for greater load-bearing capacity, superior passenger comfort and a longer service life adapted to the local requirements.
Smart solutions with added value
The high investment necessary for modern railway networks has to ensure good long-term condition of the tracks and continuous availability. This is the only way to fully exploit the potential offered by rail as an alternative form of transport for people and goods.
Smart inspection
Companies and passengers require reliability and safety. Rails are only able to fulfil their role with regard to the future of mobility if they are and remain durable. Therefore, Goldschmidt with all its expertise actively promotes the intelligent inspection of the condition of the tracks. This is the most important preventive measure against heavy wear due to continuous loads and possible rail defects and the best measure to ensure a long and successful service life of each rail.
Predictive maintenance
Professional maintenance sustainably extends the service life of rails and switches for underground networks, tram networks, light and mainline rail networks and reduces long-term costs. In your interest, Goldschmidt takes these tasks particularly seriously with the application of modern technology in a global network which is constantly updated. The invaluable experience gained from a wide range of projects around the world helps to maintain all types of rail networks in good condition and therefore safeguard your valuable investment.
Contact Us