Track and trace: keeping the railways free from Covid-19
As the UK begins to move again following months of lockdown measures, train operating companies are trying to get back on their feet whilst protecting staff and passengers from Covid-19. Andrew Tunnicliffe speaks with React cleaning specialist Shaun Doak about the challenges they face in keeping trains free from the virus and encouraging passengers to get back on board.
It
is now more than six months since UK Prime Minister Boris Johnson ordered people across the country to "stay at home, protect the National Health Service (NHS) and save lives". His statement came as the Covid-19 pandemic gripped the nation and the government had to act to reduce the spread of the virus.
Those instructions had a huge impact on the movement of people, both locally and across the country. Schools, workplaces, hospitality and retail venues all closed, with millions staying at home for weeks. For the rail network, this meant passenger numbers fell to levels never before seen. Government figures showed rail and tube usage was just 5% of normal levels during the peak of the lockdown.
At the beginning of May, as restrictions began to be eased, some people took to the daily commute once more, mindful of advice to only use public transport when absolutely necessary. Today restrictions on movement have, to a degree, once again been reimposed as the virus gains another foothold. Rail usage remains significantly reduced, with the public not convinced returning to the country's towns and cities – and indeed their workplaces – is the safest thing to do right now.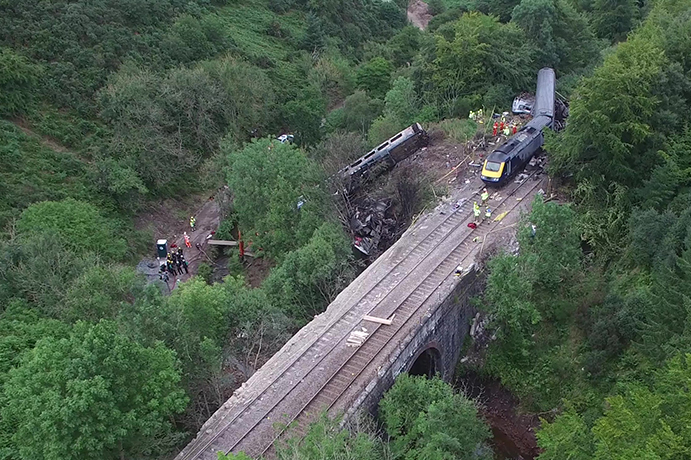 Aerial view of the derailment. Image: UK Government
Getting back on track after lockdown
It's a challenge the entire UK rail sector faces as the crippling cost of the pandemic takes its toll on train operating companies (TOCs). How can passengers be encouraged to return without risking the safety of personnel and the public? For Shaun Doak, cleaning and facilities management specialist and chief executive officer of React, the safety of rail services is of critical importance.
For now, he believes, the risk is minimal. "I was in London last Saturday and went by train. Social distancing was done very, very well; from the second we got on the train until we came home on the train later that night, there were no issues," he says.
React has been operating in the public sector for more than 20 years, providing specialist cleaning and decontamination services to rail and healthcare customers, as well as other facility management environments. Across the rail network, his company provides cleaning services for both stations and rolling stock.
When things did start to pick up, when the lockdown was relaxed, the trains were fantastic
Doak says a positive of the situation has been the appetite among TOCs to enhance their cleaning regimes, taking advantage of the lockdown to clean stations and trains. "Until the pandemic, some of the stations hadn't been deep cleaned in 20 or 30 years, believe it or not," he says.
"Certainly when we were in lockdown, TOCs used it as an excuse to pull in their fleet and have a thorough deep clean. So when things did start to pick up, when the lockdown was relaxed, the trains were fantastic. They were really clean, both internally and externally."
It's good news that the network is the cleanest it has been for years. Keeping it that way, particularly free – at least as free as possible – from an invisible virus is a concern all operators are facing right now, especially at a time of great public scepticism and a reluctance to travel on public transport.
This, Doak admits, has without a doubt been made more difficult thanks to a lack of government guidance, which he labels as "worrying". Although he accepts that has changed somewhat in recent months.
Today, face coverings are required on all public transport, enforced rigorously at train stations and onboard services. However, as routes become busier, the challenge is to keep up those levels of cleanliness. Doak says that the government can play its part to help address this by drawing up a coherent strategy that lets TOCs know what the broader vision is so they can plan ahead.
"We need stricter guidance on how [the government] sees the future panning out," he says. "Do they want us back to work or do they want us to work from home? It's almost like things are changing too often; we're going from one extreme to the other."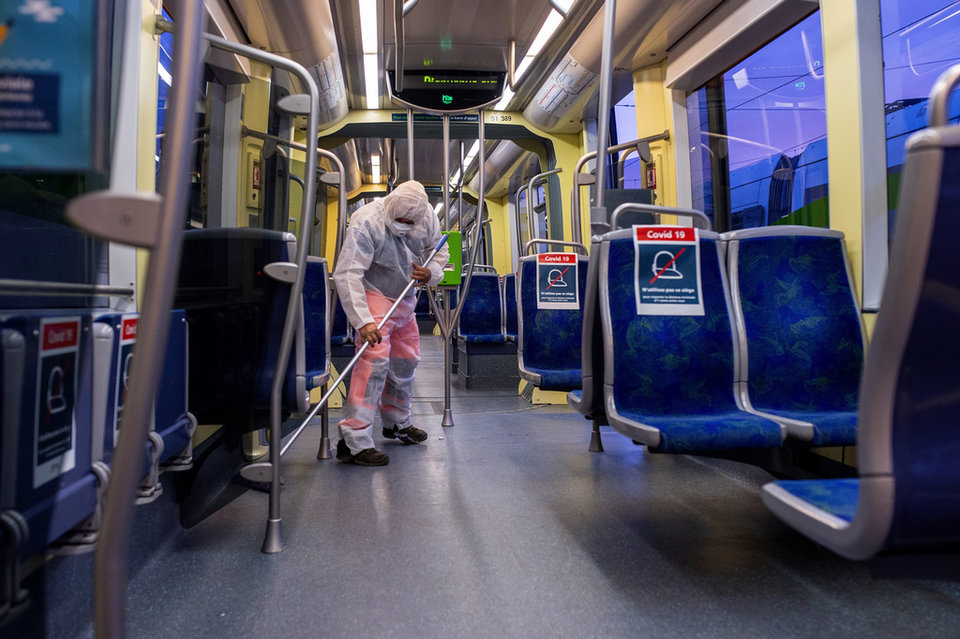 A Google Earth image showing key locations to the crash. Image: UK Government
Clean as you go
For now, TOCs are doing what they can. They have increased the amount of cleaning carried out on board trains and at stations. Doak says he has noticed how practices have changed since the outbreak of the virus.
"I used to travel by train frequently before the pandemic, and you never really saw a cleaner, unless you were terminated into a station where they jumped on for ten to 15 minutes for a quick vacuum and wipe down," he says. "I've had a couple of journeys to London since and Hull Trains have had a cleaner on board. They've gone throughout the journey, doing a wipe down of surfaces and touchpoints."
Specialist providers like React are increasingly being enlisted to support cleaning regimens and provide their services after a passenger has a confirmed case of Covid-19. In these instances, swift action is taken with the help of the track and trace system.
We, certainly within a Covid-19 decontamination, utilise ATP testing
Operators are requiring customers to reserve specific seats and carriages to help them identify what needs to be done if a case is confirmed. Doak says his clients often require attendance within as little as four hours to decontaminate not just the seat and carriage the passenger is believed to have been in but the entire train.
One of the tools vital to ensuring decontaminations are successful is adenosine triphosphate (ATP) tests, Doak says. "We, certainly within a Covid-19 decontamination, utilise ATP testing. We'll do an ATP test before, a deep clean, then ultra-low volume fog, followed by another ATP test afterwards."
"There are a lot of barrier products out there that make claims to protect against Covid-19 for any amount of days… My guidance to the manufacturer and TOCs is to do some due diligence on these products and analyse the relevant test data sheets," Doak urges. "For me, the main thing is to understand the efficacy of the products and if they have been abrasion tested. It's still early days and there seems to be a lack of real-life test data out there."
Despite public concerns, there is real evidence to suggest that trains are safe to travel on. A recent study by the Rail Safety Standards Board found that on an Azuma model, the risk of infection stood at around one in 11,000, falling to one in more than 19,000 when face coverings were worn.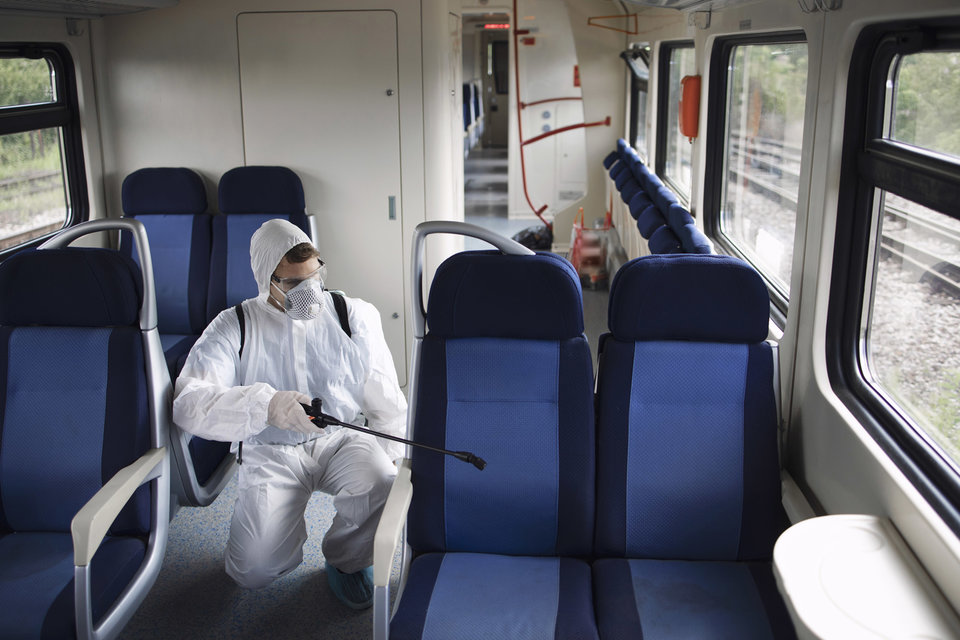 A Google Earth image showing key locations to the crash. Image: UK Government
What can the pandemic teach TOCs?
Added to this, the increase in onboard cleaning sweeps during journeys has further improved train cleanliness. "For me, the trains right now are a lot cleaner than they've ever been, that's for sure," Doak concludes.
He adds that for far too long cleaning has almost been a forgotten art. "It's very far down the pecking order, whereas now it's up top," he says. "As we come through this, I would like to see, and hope, that what the TOCs and manufacturers have learned continues moving forward. I hope that cleanliness and passenger satisfaction remains at the forefront."
I would like to see, and hope, that what the TOCs and manufacturers have learned continues moving forward
It has been a difficult period for TOCs and the entire rail network. Part of convincing passengers to travel again is having something tangible, something they can see. That includes regular train cleaning processes.
The network is far from financially healthy right now, with little cause for optimism in the coming months. But if everyone plays their part – TOCs, government and passengers – the post-Covid-19 future could be bright.