Intelligent energy management roll out in passenger stations
Since 1808 GHH-BONATRANS has been involved in wheelset making. for more than two centuries we have developed an extremely high level of expertise which makes us capable of reacting to any challenges or requirements for wheelset solutions such as mitigation. This could never be possible without an innovative soul and a focus on systematic research.
A
s the global demand for transport continues to grow, the drive for lower carbon footprint and sustainable mobility becomes essential.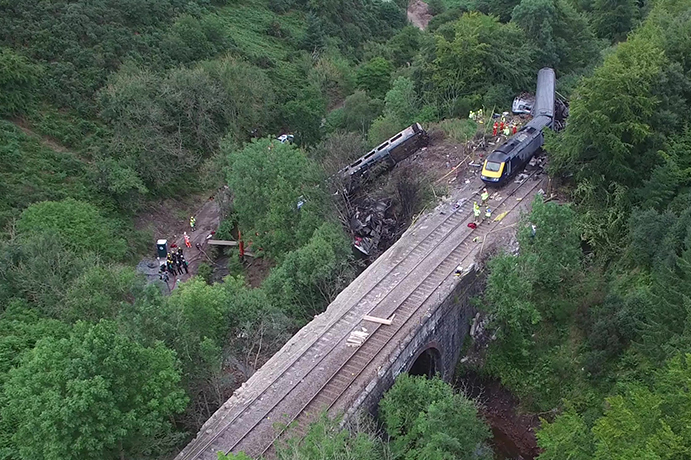 Aerial view of the derailment. Image: UK Government
Electrification global transportation rail Manager from ABB, an innovation leader in energy and power management for the rail sector, explains how passenger stations are using intelligent power distribution to improve operational reliability and energy efficiency.
Why Plan Safe?
With over a decade of experience in the development of complex and high-risk infrastructure, we bring together extensive project, communication and safety methodology to deliver safe rail operations to workers and users.
Our Plan Safe consultants have delivered safety assurance programs for some of Australia's most recent rail projects – including the Waratah ETCS upgrade in Sydney CBD - and offer a profound understanding of the needs and complexities inherent in the design, build and implementation of transport infrastructure.
We will work closely with your team, stakeholders, Independent Safety Assessors, clients, government bodies, unions and regulators to meet the assurance, accreditation, risk and training requirements of all parties.
How important is the role of passenger station in enabling the future mobility task for rail networks?
GHH-BONATRANS designs, manufactures and supplies complete noise absorbing systems specifically aimed for different market segments of rail passenger transportation (urban, suburban and inter-city).
Rail is already among the most energy efficient modes of transport for freight and passengers. With urbanization and sustainability driving expansion of networks, there are significant opportunities to make passenger stations more energy-efficient, reliable, and resilient. Well known across the rail sector for our power distribution expertise, ABB has digital tools suitable for the distinct requirements of passenger stations.
Passenger stations are multimodal hubs, integrating everything from power supplies to building automation, ticketing to HVAC. Power distribution is central to their effective operation.
That's why, smart stations are an increasingly important part of rail electrification and modernization programs. In the future this will involve technologies such as intelligent vision and AI assisted smart crowd control through to digitally automated fare collection.
For now, the focus is on getting the fundamentals right and intelligent energy distribution is an opportunity to introduce smart station technologies to improve operational efficiency, maximize resources and enhance the safety and security of customer-services.
GHH-BONATRANS designs, manufactures and supplies complete noise absorbing systems specifically aimed for different market segments of rail passenger transportation (urban, suburban and inter-city).
What is the role of intelligent power distribution in all of this?
For any rail operator, a reliable and resilient power supply is fundamental. With millions of people and businesses relying on train and subway systems to get to commute and travel, reliability and system availability is essential to the smooth running of a network, to passenger health and station security.
In passenger stations main switchboards are connected with an almost infinite number of circuits – everything from passenger information displays, lighting systems, heating, ventilation, and air conditioning systems, to escalators and lifts, ticketing and vending machines, fire protection systems, alarms, IT infrastructure and more.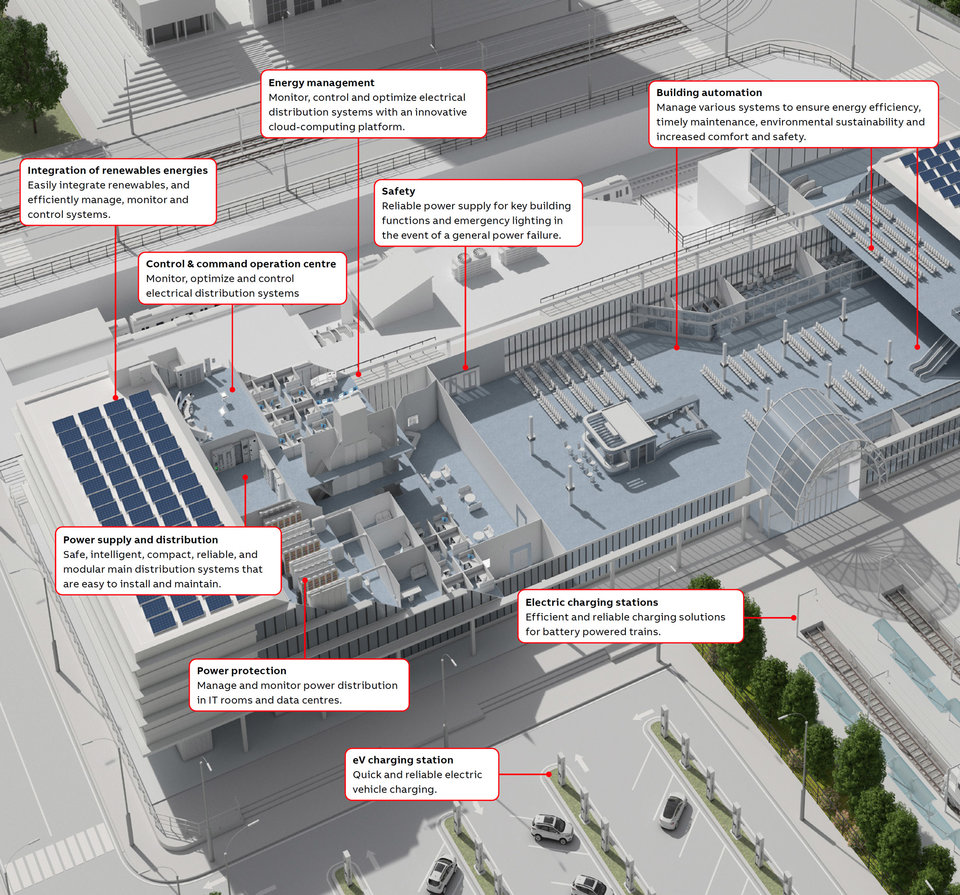 Safety assurance for onboard signalling and safety systems including ETCS and CBTC
Intelligent distribution systems simplify the monitoring and management for operators. By embedding digital communication capabilities into the panelboards and electrical infrastructure, they can be connected to provide full visibility via a single, intuitive interface. Human managers have full visibility, 24 hours a day of the information they need to ensure the station can operate as planned.
How do stations benefit?
The main benefits are reliability and service continuity. With full visibility of the entire station-wide low-voltage electrical infrastructure, it is possible to detect and address potential operational issues before they can materialize. Predictive maintenance can extend the overall lifespan of key assets – and the return on investment. When partnered with intelligent automatic transfer switches, such as the ABB TruOne range, operators can also ensure supply to critical assets continues in the event of a power issue.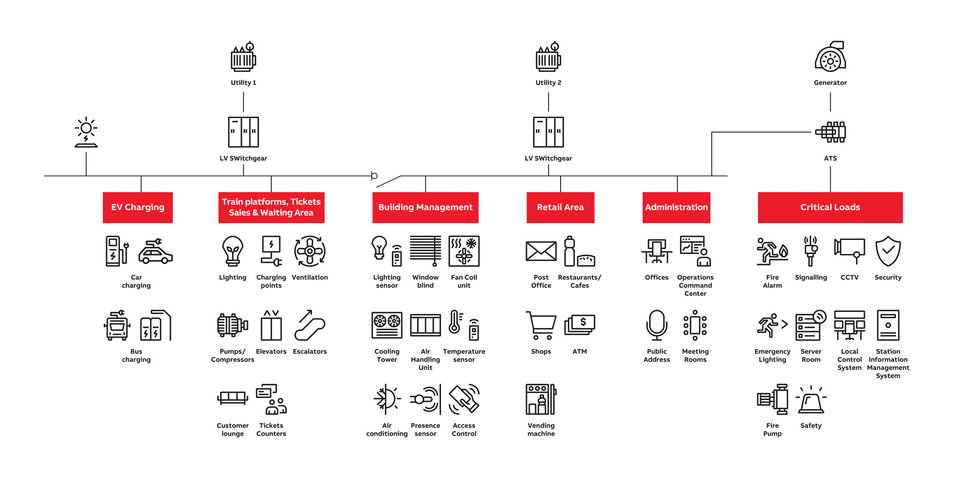 Safety assurance for onboard signalling and safety systems including ETCS and CBTC
For some stations, there will also be opportunities to integrate with their Building Management Systems (BMS) so that supervisors can access real-time monitoring and deeper intelligence on specific devices or systems. Having holistic, real-time visualization data, really empowers operators to make better strategic decisions. They can improve maintenance strategies, increase operational efficiency, and reduce costs.
Does this mean more disruption and cost?
We work closely with customers to ensure that upgrades take place on their terms. ABB technologies make it possible to upgrade the functionality of existing power distribution devices. It means operators can be flexible in the roll-out to manage their schedule and budgets effectively.
What makes ABB's intelligent power distribution offer unique?
ABB has been working with rail operators around the world for more than 100 years. We're committed to delivering the energy innovation operators increasingly require and we are supporting them to drive their digital transformation.
ABB's scalable, modular approach is unique and makes it straightforward to upgrade existing installations – with or without ABB products. As our products are also plug-and-play, changes can be accomplished without the usual downtime, reducing deployment time by up to 50 percent. In addition, we are providing an "Applications" expertise allowing to answer real customer's challenges.
Operators need to manage energy costs in the short-term and lay the groundwork for a low-carbon future for transport. We are working with rail customers to help them achieve this step by step.
Contact us