Anti-dust mats and carpet-based floor coverings for railway passenger compartments, entrance areas and driver cabs
A defining feature of Tde's anti-dirt mats is that the majority of dirt and moisture is retained in the entrance area. Our carpets also have the benefit of an open structure, highly durable material and rapid installation and replacement thanks to special backings. Floor coverings are quick drying and easily cleaned. They can also be customised with intarsia designs and finished edges.
Adjustable fire-tested roller blinds
Important criteria for roller blind systems include quiet operation, full height adjustability and the use of fire-tested materials in modifiable colours. The elements we supply are ready-to-fit, so installation is easy to integrate into the production process. Ease-of-service, alongside low life-cycle costs (LCC), is also an important factor in the customer's purchasing decision.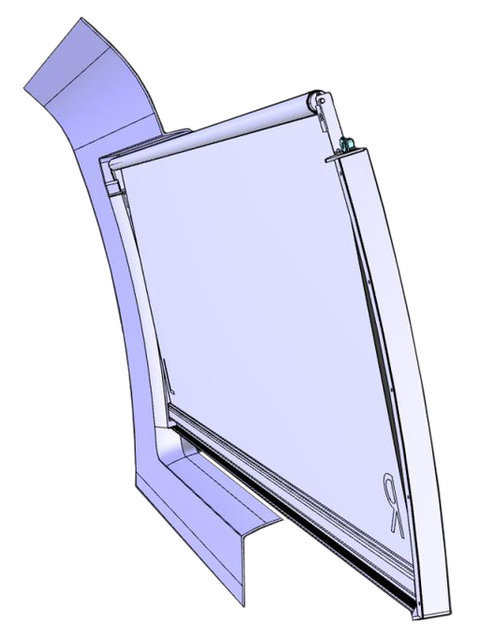 Our shading systems are continuously improved in terms of handling, ease of use, mounting time and fire certificates following new requests from customers or knowledge gained through internal development. One of the newly developed shading systems allows continuous adjustment without jamming, even in the case of large windows and upper-deck windows with curved guiding. The assisting cord grants consistent parallelism. For the drivers cabin we engineered an electrical operated roller blind which can be manually operated in case of electrical problems. As the front window is more and more inclined, an electrical roller blind working with weight is no longer possible.
Easy-care heavy-duty fabrics for passenger seats
Functionality, design, quality and the use of flame-resistant and easy-care fabrics, suitable for very heavy-duty use are the main requirements for train seat covers. Many of our designs are custom-made to suit the individual corporate identity of a company. In conjunction with our partner, we design new colour schemes or a completely new fabric design according to specifications. The seat and back covers can be laminated to make them waterproof, which extends the service-life of upholstery significantly.
Customer collaboration and European transport links
We aim to work with designers and engineers from the start of the project. In practice, we are often given concept drawings, or take measurements directly from the carriage and then translate the requirements into custom-made products using CAD and / or prototypes. More and more people are using public transport, so its performance must be continuously improved. This means that the requirements placed on vehicle designs and material requirements are becoming increasingly complex. To meet these demands, we develop ideas and translate them into new products, services or processes that are then introduced successfully into the market. Past projects regarding special supplies have included Switzerland's Golden Pass Line with anti-slip coasters or, outside the rail industry, supplying components for blood analysers to an international pharmaceutical company.
About Texat decor engineering AG
Today, the company is a successful and competent partner in the field of railway interiors or related industries and focuses on the wishes, concerns and demands of its customers. As managing director, Jürg Scheu attaches great importance to the development of new technologies and, with his motivated team, offers excellent service and convincing ideas for the implementation of good ideas. In exchange with the customers, ideas and visions resulting in real values and long lasting quality.
Tschüss!
Contact Us
Texat decor engineering AG
www.tde.ch
Tel: +41 (0)44 310 20 70