All Images: Virgin Hyperloop
Unlocking the full benefits of rail electrification
As economies across the world continue to step up the pace of rail electrification, Antonio Colla, global railway sales and marketing manager at ABB, explores the latest innovations that will help set the standard for sustainable urban transport.
Antonio Colla, global railway marketing & sales manager at ABB
Electrification may be largely viewed as the gold standard of zero-carbon transport solutions, but that is only part of the story.
We also cannot overlook how the sustainable benefits of rail electrification can be amplified through the unique opportunity to lead the way in renewable integration and energy optimisation.

Removing diesel-only traction from our railways and speeding up the rate of rail electrification is crucial to creating a sustainable transport network fit for a carbon-neutral future.

Benefits of electrification
Typically, an electric train emits between 20%-35% less carbon per passenger mile than a diesel train – a figure that will increase as the power generation industry continues to decarbonise.
Shifting passenger activity from the energy and CO2 intensities of road transport and aeroplanes to electrified rail is a key strategy for net-zero alignment. This benefit also extends to electrified rail freight, offering one of the only viable sustainable solutions to deliver on global economic requirements.
Another huge advantage is that electric trains also have zero emissions at the point of use. This eliminates harmful diesel engine emissions and particulates, an important consideration for air quality in pollution hot spots, such as city centres and mainline stations. They also reduce noise and vibration pollution, of particular benefit to local residents and biodiversity.
Moreover, electric trains can be powered by any source of power, including renewable and low-carbon options. This means they are not susceptible to oil and gas price hikes and shortages, an ever-important consideration in light of current energy market volatility.
Globally then, it is no surprise that rail is the most electrified transport sector. It is estimated that three-quarters of passenger rail transport activity now takes place on electrified trains as nations around the world continue to steadily electrify their networks.
But it's not just about securing a greener, cleaner, and more secure power supply for modern transport operators; it is just as important to find new ways to use that power more efficiently.
Rail electrification offers a unique opportunity to lead the way in renewable integration, self-generation, and energy optimisation to set the standard for sustainable transport. It is also worth noting that urban transportation electrification is mainly DC, with a growing number of railway operators across Europe and the world already using DC traction systems.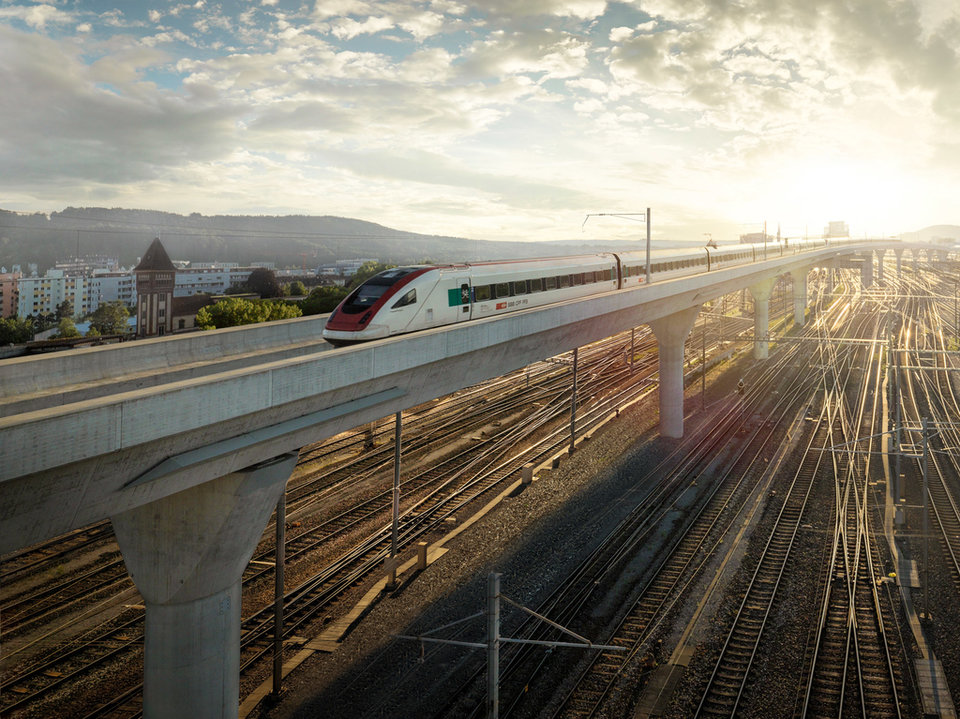 Virgin Hyperloop chief technology officer and co-founder Josh Giegel and director of passenger experience Sara Luchian
Recycling braking energy in wayside storage systems
Primarily, there are huge energy and emission reductions to be had through regenerative braking energy recovery.
Every train journey involves a huge amount of braking and acceleration. When a conventional electric train decelerates, the motors act as generators and produce electricity. Most of the time, onboard loads and distant trains can only take a portion of this energy, and the surplus is wasted into resistors.
Wayside energy storage systems (ESS) enable operators to capture this braking energy and return it to the line to sustain the acceleration of other trains that transit on the same line section. The ability to harness the regenerative energy used in this cycle thousands of times a day offers the single largest opportunity to improve the energy efficiency of traction systems and reduce grid-based demand. It can reduce overall energy consumption by up to 30 percent.
These systems can also be used to manage voltage drops to keep trains running on schedule. Inherently, trains draw peaks of power during acceleration which can cause voltage drops and lead to performance problems causing costly operation delays. It can also result in large demand charges and peak penalties from the utility company, especially during rush hours.
Because it returns the energy during the acceleration, the ESS limits the power drawn from the grid and sustains the voltage level along the line. This reduces associated utility charges and can also be used, in some cases, as an alternative to avoid or defer potential capital investments for new traction substations and additional contracts with utility companies.
This approach also provides the assurance of critical power backup where, in the event of a power outage or instability from the utility network, operators can access stored energy to power the train to the next station where commuters can safely exit the train.
Another huge opportunity lies in the ability to return captured regenerative braking energy back into the grid.
An energy recovery system, for example, allows the surplus braking energy of an electric train vehicle to return to the AC mains – in compliance with supply grid standards. It also enables operators to negotiate a more competitive contract based on estimated self-generation.
Taking the industry from the traditional role of energy consumer to an energy producer, the result is a much more competitive railway operation.
When things did start to pick up, when the lockdown was relaxed, the trains were fantastic
New digital capabilities
Underscoring all of this is the increased role that digital technologies can play in delivering a more effective modern rail infrastructure that is fit for the future.
Inherently, there are a host of complex considerations for the modern rail operator; from maintaining 24/7 services and managing soaring demand while progressing modernisation programs, through to navigating extreme weather conditions and challenging price increases.
Digitisation could provide the answer, giving rail operators the deeper visibility needed to make better decisions in all areas of operational performance, while reducing energy and delivery costs.
A further opportunity lies in a dedicated distribution solutions offering, enabling networks to digitalise substations to increase efficiency, power supply quality requirements, and lifecycle management.

All of this is just the beginning. As rail electrification places a great focus on decarbonisation, leading manufactures will continue to raise the innovation stakes by delivering new physical and digital technologies to reduce energy use and environmental impact even further.


In the meantime, with benefits that include vast energy savings, emissions reductions and increased energy security, regenerative braking storage and recuperation solutions, along with digital tools, are key stops on the journey towards a more sustainable transport future.
Main Image: Marian Pufahl