SAFETY IS MEASURABLE
Measuring & testing solutions from Goldschmidt: smart inspection for enhanced safety and quality of your rails
A
detailed diagnosis of the track condition is the basis for predictive maintenance, which guarantees the long-term economy and reliability of your track infrastructure. Measuring and testing technology on inspection trains, trolleys and hand-held devices from Goldschmidt enables you to carry out detailed evaluations to identify deviations and take preventive maintenance measures.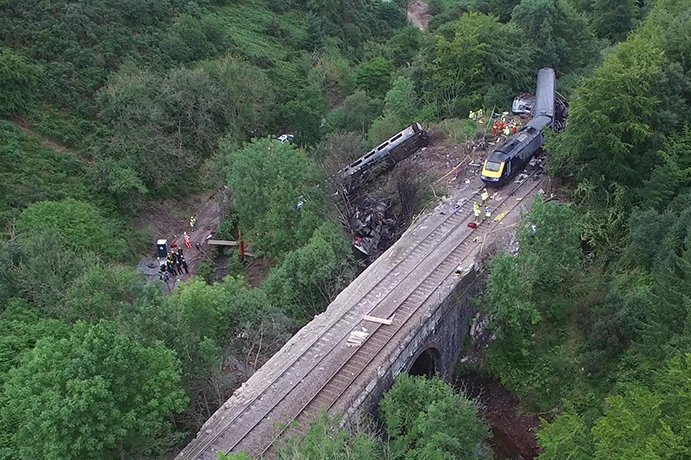 Aerial view of the derailment. Image: UK Government
ORIGINAL THERMIT®- THE BEST CHOICE FOR YOUR RAILWAYS
Around the world high speed trains, freight trains, heavy haul trains, trams and subways glide smoothly over continuously welded track. As the inventor and global market and technological leader in the field of Thermit® welding, for over 125 years, Goldschmidt has set standards for continuously welded track. The Original Thermit® welding process enables continuously welded rails of different profiles and grades. Goldschmidt develops, produces and supplies all associated equipment, machines and materials. In addition to the Original Thermit® portion, the portfolio includes, for example, refractory moulds, crucibles and devices with a digital interface. You also benefit from the on-site services at the track construction site thanks to well-trained and efficient welding teams.
Reliable, safe and efficient infrastructure through innovative testing technology for automated rail testing
In order to ensure rail traffic safety, it is vital to have precise knowledge of the condition of the track infrastructure. The subgrade, superstructure, switches, rails and overhead line form an overall complex in which individual components influence each other.
The inspection and analysis of the condition of rails is a prerequisite for condition-based and preventive rail maintenance – which in turn is a prerequisite for the sustainable reduction of lifecycle costs of railroad infrastructure components.
Against this backdrop, two innovative Goldschmidt Group companies, PLR from Germany and GRAW from Poland, have set out to make the inspection of rails for various types of damage safer and the reporting of results more reliable by combining their individual core competences.
The extent of the flooding and the scale of the damage is something I have never witnessed before
THE EXPERTICE OF GRAW IS THE PRECISE DIAGNOSIS OF TRACK AND RAIL GEOMETRY
Geometric parameters are the key for analysing the track condition. The measuring and testing results have to be within the permitted technical tolerance range.
Regular measurement of tracks and switches guarantees your operation will be running safely. The continuous collection and evaluation of data will enable you to implement a preventive maintenance programme for future inspection and repairs. Based on this data you can maintain track sections with increased wear by performing grinding and welding work at an early stage to improve wheel-to-rail contact. The measurement of the track and longitudinal rail geometry can detect an opportunity to reduce noise and wear. In order to achieve the best results, we also provide a measurement of the straightness of the track at your welded joint. The acceptance and review of work performed on the track is also recorded with the respective applications.
PRECISE ANALYSIS OF TRACK AND RAIL DEFECTS IS PLR's COMPETENCE
Increasing axle loads, higher speeds and consequently greater forces being applied to tracks are the leading causes of fatigue and damage to a rail network. Through early detection and preventative maintenance, rail wear, safety and the life of assets can be optimized.
During visual inspection, surface defects, breaks in the material or missing parts are detected and documented. Inspection procedures are also important for track safety where internal material defects and hidden damage is detected that cannot be seen with the naked eye and would otherwise go unnoticed. Eddy current and ultrasonic testing enable you to carry out a complete rail evaluation as well as the classification of surface and internal defects. This allows you to identify, locate and monitor areas highly susceptible to flaws.
Strong together
There are numerous types of geometry and rail defects that need to be detected, monitored and evaluated as early as possible. By combining the know-how of GRAW and PLR, Goldschmidt offers its customers measurement and testing systems customized to fit their needs for the detection of rail defects and both, track and rail geometry deviation as part of automated inspection, from a single source. The linking of all our measuring and testing expertise enables our customers to notably optimize maintenance work. This contributes significantly to increasing the availability of the network and to the efficient use of maintenance budgets
Contact Us